Holidays
ENCOURAGE AUTHOR BY COMMENTING
Leave Comment
Message Writer
Hire Writer
Report Article
They Said Yes
Message Writer
Hire Writer
Tweet
---
They Said Yes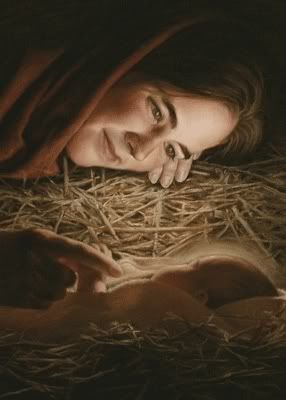 Danette Kettwich

Mary praised God daily,
she lifted up his name.
She lived a worthy life,
she said "yes" as she prayed.

Scriptures read...
Through the line of David,
God's promise would become.
She studied not ever knowing;
Through her this would be done.

Joseph saw her love for God;
She was engaged to be his wife.
They said yes to each other,
Vowing to be together for their life.

They said "yes".

Mary kept her vow to God,
When she found the man she loved.
God then said it is time,
He sent an angel from above.

Mary you are blessed among women,
Rejoice, highly favored one.
Do not fear the Lord is with you,
You will give birth to God's son.

Confused Mary said
"How can this be,For I know no man?"
The Holy Spirit will come to you,
she said "yes" to God's plan.

Mary said "yes".

Mary went to Joseph,
And said she was to have God's son.
Joseph being just a man
Thought of what should be done.

Should he put her away?
He did not understand.
Then an angel came to him,
He said "this is God's hand".

Take Mary to be your wife,
This child will be of Holy birth.
You will call His name Jesus,
The Messiah to free the earth.

Joseph said "yes".

Jesus was born in Bethlehem,
In a lowly stall of hay.
They laid him in a manger bed,
As they lifted their hearts to pray.

Angels and stars announced,
The arrival of The King,
Shepherds and wise men answered the call,
As the angels did sing.

They followed the star from near and far,
They followed God's pure light.
They said yes to the King of Kings,
As they traveled that Holy night.

They said "yes".

Mary raised the perfect child,
Never questioning God's plan.
Even if she knew he would lay down His life,
She seemed to understand.

Jesus grew and taught until;
It came time to give His life.
Crying out to God in the garden,
His heart was full of strife.

He was not angry at His Father,
As they forced thorns upon His head.
As the nails pierced His hands and feet,
He looked to heaven instead.

Jesus said "yes".

God has called you to follow Him;
He has given you signs to see.
Will you willingly give up your life?
Will you set your spirit free?

Accept the gift freely given,
The gift that Christ has paid.
The gift sent to us through a virgin,
Just call upon Jesus' name.

Call Him and he will answer,
He'll show you great and mighty things.
Carrying for you - your burdens,
A gift of new life We will bring.

Will you too say yes?


Copyright © Danette L. Kettwich 2007
---
PLEASE ENCOURAGE AUTHOR BELOW
LEAVE COMMENT ON ARTICLE
Reader Count & Comments
Date
A story simply told, in poetry form. Very easy to read and understand. I like the way you brought Joseph into the picture. I often think that this very just man is pushed back into the background. In that culture, in those days, it wasn't easy for him to have accepted Mary as his wife. To all eyes she was an adulteress, but he knew better. He had been told by an angel of God and he had believed him. He lovingly took Mary and protected her from the world. We owe Joseph a lot of credit. I am glad you did not leave him out of the picture...Thanks for sharing...Helen
This is beautiful. Thank you for the blessing. In Christ's Love,

Julia
Beautiful combination!Beautiful Inspirational image and poetry!
God Bless,
Merry Christmas to you and yours,
In Christ,Dee
"Numbers 6:24,25,26"
Accept the gift freely given,
The gift that Christ has paid. Thank you for these words. Amen. God bless you.
I echo Mark.
Merry Christmas!
Thomas
---
Read more articles by
Danette Kettwich
or search for other articles by topic below.
---
Search for articles on: (e.g. creation; holiness etc.)
Read more by clicking on a link:
Free Reprints
Main Site Articles
Most Read Articles

Highly Acclaimed Challenge Articles
.
New Release Christian Books for Free for a Simple Review
.
NEW - Surprise Me With an Article - Click here for a random URL

God is Not Against You - He Came on an All Out Rescue Mission to Save You
...in Christ God was reconciling the world to himself, not counting their trespasses against them... 2 Cor 5:19
Therefore, my friends, I want you to know that through Jesus the forgiveness of sins is proclaimed to you. Acts 13:38
LEARN & TRUST JESUS HERE
The opinions expressed by authors do not necessarily reflect the opinion of FaithWriters.com.