Poetry
ENCOURAGE AUTHOR BY COMMENTING
Leave Comment
Message Writer
Hire Writer
Report Article
Comfort Quilt
Message Writer
Hire Writer
Tweet
---
Comfort Quilt

That you could hear a song
on a light summer's breeze
and have it set your wild heart
to a comforting ease,

that you could catch a scent
of spring in the air,
the rainforest essence
of my glory, my hair,

that the Spirit of God
would whisper my name,
a gentle voice in your ear
that will always remain,

I would rise up early
to greet a beautiful new world,
wrapped in a comfort quilt
sewn alone for this girl.

My fingertips tremble
like the muscle in my chest
to think of the beauty
that awaits me and rest,

finally, the rest,

the rest I've waited for
so very, very long,
a comfortable silence --
the heart of our song.
© Joyce Pool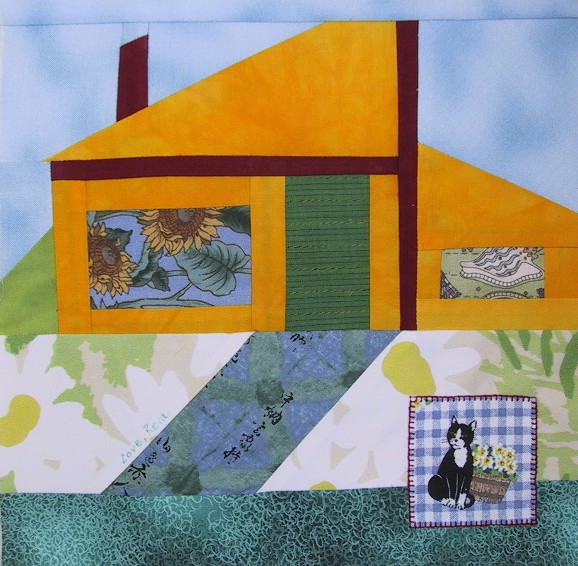 ---
PLEASE ENCOURAGE AUTHOR BELOW
LEAVE COMMENT ON ARTICLE
Reader Count & Comments
Date
How wonderful to be so warmly wrapped up in God's comfort quilt always. Thank you for sharing this heartfelt beauty and love with us, our precious sister, Treava. You are one of our most delightful treasures here in FW. God bless!
Wonderfully creative! Great Symbolism. The image is very clear and I can imagine being wrapped up too! Love Danette
the quit and the poem are both beautiful! God bless you.
This is exquisite... just like you! You are a treasure, and someone will come to wrap you in a 'comfort quilt' and cherish you. Your writing is so beautiful, even more so because it is written from your heart. With love, Peg
Beautiful quilt! Beautiful poem! Beautiful picture portrayed: The Comfort Quilt.
And you have captured a perfect picture of my cat, Keeper, on the front. You are so talented in so many ways, Joyce. Keep blessing so many with your varied writings. God bless you.... Helen
Beautiful work, sister. I have missed reading all the wonderul works of my family here at FW. This has blessed me, thank you. In Christ, Christian
---
Read more articles by
(Treava) Joyce Pool
or search for other articles by topic below.
---
Search for articles on: (e.g. creation; holiness etc.)
Read more by clicking on a link:
Free Reprints
Main Site Articles
Most Read Articles

Highly Acclaimed Challenge Articles
.
New Release Christian Books for Free for a Simple Review
.
NEW - Surprise Me With an Article - Click here for a random URL

God is Not Against You - He Came on an All Out Rescue Mission to Save You
...in Christ God was reconciling the world to himself, not counting their trespasses against them... 2 Cor 5:19
Therefore, my friends, I want you to know that through Jesus the forgiveness of sins is proclaimed to you. Acts 13:38
LEARN & TRUST JESUS HERE
The opinions expressed by authors do not necessarily reflect the opinion of FaithWriters.com.
FaithWriters offers Christian reading material for Christian readers. We offer Christian articles, Christian fiction, Christian non-fiction, Christian Bible studies, Christian poems, Christian articles for sale, free use Christian articles, Christian living articles, New Covenant Christian Bible Studies, Christian magazine articles and new Christian articles. We write for Jesus about God, the Bible, salvation, prayer and the word of God.