Faith
ENCOURAGE AUTHOR BY COMMENTING
Leave Comment
Message Writer
Hire Writer
Report Article
Lake Tawakoni
Message Writer
Hire Writer
Tweet
---
I decided to repost the poem contained herein so that I could share some information about the lake and some pictures and because our lake is no longer "almost full". It is, in fact, over full. I hope you will find some of this information on Lake Tawakoni interesting.
Lake Tawakoni stretches over 3 counties in northeast Texas... Hunt, Van Zandt, and, ironically "Rains" counties. It's actually pretty huge to be a "manmade" lake as it covers a whopping 36,700 acres. It has a 200 mile-long shoreline. The drainage area above the dam is 756 square miles.
Part of Lake Tawakoni is walking distance from my house. Just a couple of months ago, that particular part of the lake was completely dried up. I could have walked all the way across it without getting my shoes wet. There was no water in it whatsoever.
The same thing happened on one side of a bridge about 5 miles from me. All over Lake Tawakoni, people's docks were on dry land and the waterline was many, many feet away. Several (most) of the public boat ramps shut down. A few of them took tractors out to dig the dirt away enough to get boats into the low water. The lake was well over 15 feet low the last time I heard. The drought that caused our lake to dry up so terribly lasted 2 years.
I drove across the bridge day before yesterday. There was water lapping over the sides of it. The dock a little more than 50 yards behind my house is covered in water. Yes, it has been raining much here lately. The lake has risen to 1 1/2 feet above normal. We had a period of 45 days straight of rain in the last 2 months. In other words, the lake has probably risen about 17 feet or more.
It's Been Raining

It's been raining much here lately,
almost every single day.
The lake is almost full again.
Our God must have heard us pray.

And oh, how the daisies love it!
Sunshiny little smiles adorn
places once barren of color
on this blessed summer morn.

The butterflies must smell new life,
those daisies' subtle perfume,
for seven graceful creatures dance
from each face, to bloom, to bloom.

It's been raining much here lately,
almost every single day.
Revelation springs up full bloom.
Father must have heard me pray.

Oh, how I wish to share it all,
the good grass, a savory meal
that has been given me upon
Zion's blessed, holy hill.

It's been raining much here lately,
almost every single day.
If you can smell the sweet perfume,
just follow The Rose this way.

He'll lead you to greenest pastures,
where, for all there's plenty of room,
where seven graceful creatures dance
upon daisies all abloom.
Deuteronomy 32:2
My doctrine shall drop as the rain, my speech shall distil as the dew, as the small rain upon the tender herb, and as the showers upon the grass:
Psalms 72:6
He shall come down like rain upon the mown grass: as showers that water the earth.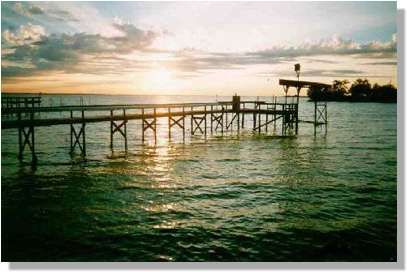 The picture below is one of a funnel cloud attached to a small cumulus cloud. The oddity occurred following a supercell thunderstorm that passed over Lake Tawakoni.
If this picture was taken when I think it was, I got caught driving over the 2-mile bridge (pictured above) on my way home from a track meet and was about halfway across it when I drove from broad daylight into pitch darkness... that is except for when huge bolts of lightning stretched all over across the sky. If it was that day, it was one of the first storms this season.
There were over 2,000 people in the high school hallways when I made it to the school to wait on the bus to return from the track meet and for my son. I thought that they were behind me, but was informed that they were detained in Emory (Rains) high school until the storm passed over an hour after I sat there and worried about them being caught in the storm. I asked if anyone had seen the buses or heard from one of the coaches, thinking perhaps they'd stopped on the way somewhere to seek shelter. It was over 2 hours from the time I left the track meet until I seen my son again.
The fire department said that 3 tornadoes were spotted over Lake Tawakoni that day. But the damage was minimal and, praise God, nobody was hurt.
It's a little cloudy, but is not raining today... so far. However, the "rain" of the Spirit of God continues to fall over me. I am amazed by the revelations God has poured out for me lately. May God bless you all with the same Holy Spirit rain.
© Joyce Pool
---
PLEASE ENCOURAGE AUTHOR BELOW
LEAVE COMMENT ON ARTICLE
Reader Count & Comments
Date
Yes, Treava, so glad you were all okay after that experience! I LOVE that poem... it flows so beautifully and makes you stop and reflect on God's refreshing touch! May God bless you and continue to inspire you to bring glory to His Name through your writing! Love, Peggy
Thank you for the report, and I am glad you are all ok. It has been raining a lot here too. Thank God for it, although my prayers go out to those who are flooded.
Thomas
---
Read more articles by
(Treava) Joyce Pool
or search for other articles by topic below.
---
Search for articles on: (e.g. creation; holiness etc.)
Read more by clicking on a link:
Free Reprints
Main Site Articles
Most Read Articles

Highly Acclaimed Challenge Articles
.
New Release Christian Books for Free for a Simple Review
.
NEW - Surprise Me With an Article - Click here for a random URL

God is Not Against You - He Came on an All Out Rescue Mission to Save You
...in Christ God was reconciling the world to himself, not counting their trespasses against them... 2 Cor 5:19
Therefore, my friends, I want you to know that through Jesus the forgiveness of sins is proclaimed to you. Acts 13:38
LEARN & TRUST JESUS HERE
The opinions expressed by authors do not necessarily reflect the opinion of FaithWriters.com.
FaithWriters offers Christian reading material for Christian readers. We offer Christian articles, Christian fiction, Christian non-fiction, Christian Bible studies, Christian poems, Christian articles for sale, free use Christian articles, Christian living articles, New Covenant Christian Bible Studies, Christian magazine articles and new Christian articles. We write for Jesus about God, the Bible, salvation, prayer and the word of God.