Humor
PLEASE ENCOURAGE
AUTHOR BY COMMENTING


LEAVE COMMENT ON ARTICLE As A Member OR Anonymously

Message Writer
Hire Writer
Report Article
Made in the Shade
by
lynn gipson
01/09/14
For Sale
Author requests article critique
Message Writer
Hire Writer
Tweet
---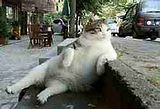 They unkindly call me the name Fat Cat,
cause I weigh 25 pounds so I guess I'm fat,
but my frame is big and so is my head,
Just wish they would call me Big Boy instead.
I get tender vittles as much as I want,
treats called Temptations they rattle and flaunt,
I'm king of the house, I own the place,
people just live here, I loan them the space.
I go in and out at my own pleasure,
a place on the love seat is what I treasure,
I demand fresh water three times a day,
I pout at people if I don't get my way.
My life is better than that of most cats,
I'm way too above chasing mice or rats,
I sleep when I want, and poop in my box,
and go around stealing people's socks.
I love to surprise them with a jump or two,
I hide behind doors and then yell "Boo!"
It tickles me so to see them run,
Scaring my people is my kind of fun.
I love it when someone scratches my ears,
my own warming blanket brings me to tears,
I'm cool in the summer the patio shade,
yeah, this Big Boy definitely has it made.
PLEASE ENCOURAGE AUTHOR
, LEAVE COMMENT ON ARTICLE
AS A MEMBER
OR
ANONYMOUSLY
Read more articles by
lynn gipson
or search for other articles by topic below.
---
Search for articles on: (e.g. creation; holiness etc.)
Read more by clicking on a link:
Free Reprints
Main Site Articles
Most Read Articles

Highly Acclaimed Challenge Articles
.
New Release Christian Books for Free for a Simple Review
.
NEW - Surprise Me With an Article - Click here for a random URL

God is Not Against You - He Came on an All Out Rescue Mission to Save You
...in Christ God was reconciling the world to himself, not counting their trespasses against them... 2 Cor 5:19
Therefore, my friends, I want you to know that through Jesus the forgiveness of sins is proclaimed to you. Acts 13:38
LEARN & TRUST JESUS HERE
The opinions expressed by authors do not necessarily reflect the opinion of FaithWriters.com.