Poetry
PLEASE ENCOURAGE
AUTHOR BY COMMENTING


Leave Comment
Message Writer
Hire Writer
Report Article
Mississippi Mockingbird
by
lynn gipson
05/11/12
Not For Sale
Author requests article critique
Message Writer
Hire Writer
---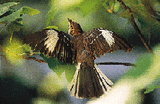 Mississippi Mockingbird how you enthrall
Who are you reaching with all of your calls?
Sounding like all birds in the trees.
Are you trying to taunt, or merely to please?
Singing outside of my window so loudly
Beautiful feathered designs you show proudly
Sitting there chortling away your day
What are you really trying to say?
God gave you such mysterious talent
Awesome noises keep others off balance
No one knows what youíre going to say next
Are you calling your mate or just sending a text?
When God created you, Mockingbird
What did he really want to be heard?
I guess thatís only for your friends to know
You really know how to put on a show
Listening each morning to your repertoires
I recall Mockingbird songs and stories
"If that Mockingbird donít sing,"
Does not apply to your melodious ring
Chirping, whistling, tweeting away
God must have sent you to make my day
I listen for each of your amazing sounds
My heart waits gladly for another round.
Mississippi Mockingbird, please donít leave
You give such hope, you give me such peace
That God designed such a bird as you
Strengthens my faith and my spirit too.
God thank you so much for this wondrous bird
Peace and tranquility in my soul are stirred
Your stupendous creations of every kind
Sent to us always to keep you in mind.
PLEASE ENCOURAGE AUTHOR
,
LEAVE COMMENT ON ARTICLE
Read more articles by
lynn gipson
or search for other articles by topic below.
---
Search for articles on: (e.g. creation; holiness etc.)
Read more by clicking on a link:
Free Reprints
Main Site Articles
Most Read Articles

Highly Acclaimed Challenge Articles
.
New Release Christian Books for Free for a Simple Review
.
NEW - Surprise Me With an Article - Click here for a random URL

God is Not Against You - He Came on an All Out Rescue Mission to Save You
...in Christ God was reconciling the world to himself, not counting their trespasses against them... 2 Cor 5:19
Therefore, my friends, I want you to know that through Jesus the forgiveness of sins is proclaimed to you. Acts 13:38
LEARN & TRUST JESUS HERE
The opinions expressed by authors do not necessarily reflect the opinion of FaithWriters.com.