Poetry
ENCOURAGE AUTHOR BY COMMENTING
Leave Comment
Message Writer
Hire Writer
Report Article
Summer Walk
Message Writer
Hire Writer
Tweet
---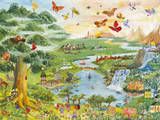 Moving along steadily as we talk
Under sizzling sun while on our walk
We share our thoughts, hopes and dreams.
Our eyes are blessed by birds and butterflies
As we journey under invigorating skies
Enjoying the remains of sunshine's beams.
Taking in all the sights and sound
of sweet summer season found all around
Finding rest from our walk by shimmering streams.
---
PLEASE ENCOURAGE AUTHOR BELOW
LEAVE COMMENT ON ARTICLE
Reader Count & Comments
Date
Very refreshing...I was walking with you, even though I don't care for very hot weather like we are having now, I could feel the breeze with you...Thanks..Helen
---
Read more articles by
Julie Pisacane
or search for other articles by topic below.
---
Search for articles on: (e.g. creation; holiness etc.)
Read more by clicking on a link:
Free Reprints
Main Site Articles
Most Read Articles

Highly Acclaimed Challenge Articles
.
New Release Christian Books for Free for a Simple Review
.
NEW - Surprise Me With an Article - Click here for a random URL

God is Not Against You - He Came on an All Out Rescue Mission to Save You
...in Christ God was reconciling the world to himself, not counting their trespasses against them... 2 Cor 5:19
Therefore, my friends, I want you to know that through Jesus the forgiveness of sins is proclaimed to you. Acts 13:38
LEARN & TRUST JESUS HERE
The opinions expressed by authors do not necessarily reflect the opinion of FaithWriters.com.
FaithWriters offers Christian reading material for Christian readers. We offer Christian articles, Christian fiction, Christian non-fiction, Christian Bible studies, Christian poems, Christian articles for sale, free use Christian articles, Christian living articles, New Covenant Christian Bible Studies, Christian magazine articles and new Christian articles. We write for Jesus about God, the Bible, salvation, prayer and the word of God.