Poetry
PLEASE ENCOURAGE
AUTHOR BY COMMENTING


Leave Comment
Message Writer
Hire Writer
Report Article
Soldier's Prayer
Message Writer
Hire Writer
Tweet
---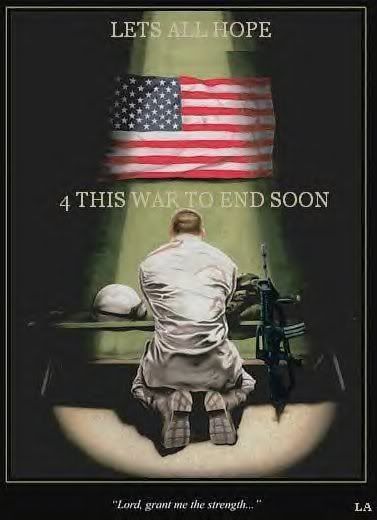 Soldierís Prayer
March 30, 2009
Danette Kettwich
I close my eyes, I bow my head,
I rub my weary brow.
Sustainer if there was a time,
My God I need You now.
Iíve been away from my loved ones,
It seems a million years.
I now lift them up to You Lord,
As my eyes fill with tears.
We have been fighting this battle.
Please Father could You try,
To bring this fighting to an end,
Bring silence to the sky?
Bombs ring constant in the distance,
Startled still at each sound.
Savior please either come back soon
Or turn this world around.
PLEASE ENCOURAGE AUTHOR
,
LEAVE COMMENT ON ARTICLE
Read more articles by
Danette Kettwich
or search for other articles by topic below.
---
Search for articles on: (e.g. creation; holiness etc.)
Read more by clicking on a link:
Free Reprints
Main Site Articles
Most Read Articles

Highly Acclaimed Challenge Articles
.
New Release Christian Books for Free for a Simple Review
.
NEW - Surprise Me With an Article - Click here for a random URL

God is Not Against You - He Came on an All Out Rescue Mission to Save You
...in Christ God was reconciling the world to himself, not counting their trespasses against them... 2 Cor 5:19
Therefore, my friends, I want you to know that through Jesus the forgiveness of sins is proclaimed to you. Acts 13:38
LEARN & TRUST JESUS HERE
The opinions expressed by authors do not necessarily reflect the opinion of FaithWriters.com.
Member Comments
This is very touching. This expresses such feeling and spoke to me. God bless. Keep serving. In Christ, Christian
Yes, let us all hope! I often think how homesick these soldiers must be. May God bless each one...Helen