Testimonies
ENCOURAGE AUTHOR BY COMMENTING
Leave Comment
Message Writer
Hire Writer
Report Article
My Forever-Love
by
Joyce Poet
06/01/08
Not For Sale
Author requests article critique
Message Writer
Hire Writer
---
I've always said, "I don't believe in love at first sight. You have to really know a person to truly be able to say you love them."
I was wrong.
It only took one look at those dark brown, puppy dog, "bedroom" eyes and I fell so, so deeply in love. I was a goner ...
for good.
Oh, it was no temporary, fleeting emotion. I love him still.
Always will.
I wanted to make all the world right for him. But I couldn't. He had battles of his own to fight and there was nothing I could do to help him.
It didn't keep me from trying.
If a person's love could heal, my love for him would have done so. By him, I learned the power of prayer and surrender of all things
to God.
I wanted to comfort him, to gather him up and hold him close against my bosom and keep him there for eternity.
I couldn't do that either.
But he'll forever maintain his own place in the deepest recesses of my heart,
whether I can hold him or not.
I wanted to give him every good thing, every joy imaginable, to put a smile on his face that no rainy day could wash away, one that no trial nor storm could ever phase.
I couldn't do that either.

But his laughter kept me strong.
He's so tall and masculine and handsome. Yet, he's compassionate and kind and loving. He's extremely intelligent. He has a quiet confidence mixed with a strong dose of admirable humility, never arrogant nor boastful. He's got a fantastic sense of humor, the mildest of temperaments and a healthy reverence for God
and for me.
I will love him forever. Nothing in the world can change that.
Not even him.
Somehow, he is comfortable in my love for him, even if it can be overwhelming at times. Amazingly enough, he loves me too!
Always will!
He understands me like few do and loves me all the more just for me being me.
He is my shining star on darkest nights.

He is my joy.

He is my song.

My forever-love,

he is my son.
ę ~Treava
... for Daniel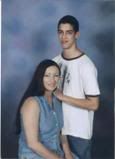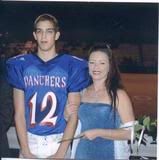 ---
PLEASE ENCOURAGE AUTHOR BELOW
LEAVE COMMENT ON ARTICLE
Reader Count & Comments
Date
Treava, This is exquisite, and builds so effectively that you took my breath away. Who could this amazingly beautiful man be?? Your son. Wham, the end. Great writing, my friend--you got me! Sooo good to see you here again. Love, Sherry
Lovely sentiments, and a surprise ending. But again, I had a hard time reading it, as it stretched so far from the left to the right that I had to keep moving the page over to read the whole line. Maybe it is because of the pics? They were lovely, too, however...Helen
---
Read more articles by
Joyce Poet
or search for other articles by topic below.
---
Search for articles on: (e.g. creation; holiness etc.)
Read more by clicking on a link:
Free Reprints
Main Site Articles
Most Read Articles

Highly Acclaimed Challenge Articles
.
New Release Christian Books for Free for a Simple Review
.
NEW - Surprise Me With an Article - Click here for a random URL

God is Not Against You - He Came on an All Out Rescue Mission to Save You
...in Christ God was reconciling the world to himself, not counting their trespasses against them... 2 Cor 5:19
Therefore, my friends, I want you to know that through Jesus the forgiveness of sins is proclaimed to you. Acts 13:38
LEARN & TRUST JESUS HERE
The opinions expressed by authors do not necessarily reflect the opinion of FaithWriters.com.
FaithWriters offers Christian reading material for Christian readers. We offer Christian articles, Christian fiction, Christian non-fiction, Christian Bible studies, Christian poems, Christian articles for sale, free use Christian articles, Christian living articles, New Covenant Christian Bible Studies, Christian magazine articles and new Christian articles. We write for Jesus about God, the Bible, salvation, prayer and the word of God.