Bible Studies
ENCOURAGE AUTHOR BY COMMENTING
Leave Comment
Message Writer
Hire Writer
Report Article
A Portrait of Righteousness
by
Julie Pisacane
03/30/08
Free to Share
Author requests article critique
Message Writer
Hire Writer
---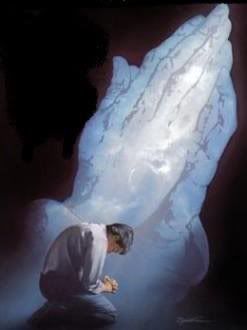 A Portrait of Righteousness
[Romans 1: 16 For I am not ashamed of the gospel of Christ: for it is the power of God unto salvation to everyone that believeth; to the Jew first, and also to the Greek]
is a verse that describes how a Christian reveals himself to be righteous.
To be without the gospel of Christ, is to live an
unrighteous
life in vain. I often think upon a verse that emphasizes the utmost importance of the Gospel of Christ in
John 6:68 Then Simon Peter answered him, Lord, to whom shall we go? thou hast the words of eternal life.
A significant question is asked and a powerful answer given in one short verse.
Our righteousness is Christ as our covering, our life hidden in Him now as we serve others in the mission fields God has provided upon his earth. It is the Gospel of Christ that enables believers to live this precious life in loving obedience unto Him with blessed assurance.
True believers live on into eternity protected from any future separation from God. The results of the Gospel are seen in believers. We read in
2 Corinthians 5:17 Therefore if any man be in Christ, he is a new creature: old things are passed away; behold, all things are become new.
Our works are committed unto the Lord, and this is how we serve in His ministry. It is written :
Commit thy works unto the LORD, and thy thoughts shall be established~ Proverbs 16:3.
By serving each other as if they are Christ, we shine His Light unto others. We read and obey this from the words written in
Matthew 25 :34 Then shall the King say unto them on his right hand, Come, ye blessed of my Father, inherit the kingdom prepared for you from the foundation of the world: 35 For I was an hungred, and ye gave me meat: I was thirsty, and ye gave me drink: I was a stranger, and ye took me in:
The words spoken by Christ tell us that the whole world is our neighbor and we are to love them as He first loved us.
Our actions are done in obedience to the Gospel of Christ. Our hearts are filled with the desire to please God as the vessels of glory that He shapes us to be. We are molded by the power of the Gospel and fully trust in God.
True believers are commanded by God to share the Gospel of Christ and we do this through earnest prayer, gentle witnessing, and loving actions of faith that line up with His Word. Christ is our righteousness. He covers our shame and changes us from the inside out. He knows our hearts and those who come into our lives should know who it is we belong to.
If ye know that he is righteous, ye know that every one that doeth righteousness is born of him. 1 John 2:29
---
PLEASE ENCOURAGE AUTHOR BELOW
LEAVE COMMENT ON ARTICLE
Reader Count & Comments
Date
Christ truly is our only righteousness. Oh,dear Lord, may I never stray far from You so that all who you draw near will be able to see You and Your Love shining brightly and drawing them ever closer to You and salvation! Thank you, Julie, for these wonderful words of truth. Love and Hugs - Jocy
Julie,
Thank you for this soothing balm from the Word. You are a perfect picture of His righteousness, dear sister. I feel His Spirit in these beautiful words from your redeemed heart. Great bible study. Keep writing for His glory! In Christ's Love,

Julia
---
Read more articles by
Julie Pisacane
or search for other articles by topic below.
---
Search for articles on: (e.g. creation; holiness etc.)
Read more by clicking on a link:
Free Reprints
Main Site Articles
Most Read Articles

Highly Acclaimed Challenge Articles
.
New Release Christian Books for Free for a Simple Review
.
NEW - Surprise Me With an Article - Click here for a random URL

God is Not Against You - He Came on an All Out Rescue Mission to Save You
...in Christ God was reconciling the world to himself, not counting their trespasses against them... 2 Cor 5:19
Therefore, my friends, I want you to know that through Jesus the forgiveness of sins is proclaimed to you. Acts 13:38
LEARN & TRUST JESUS HERE
The opinions expressed by authors do not necessarily reflect the opinion of FaithWriters.com.
FaithWriters offers Christian reading material for Christian readers. We offer Christian articles, Christian fiction, Christian non-fiction, Christian Bible studies, Christian poems, Christian articles for sale, free use Christian articles, Christian living articles, New Covenant Christian Bible Studies, Christian magazine articles and new Christian articles. We write for Jesus about God, the Bible, salvation, prayer and the word of God.