Worship
ENCOURAGE AUTHOR BY COMMENTING
Leave Comment
Message Writer
Hire Writer
Report Article
Created To Worship
Message Writer
Hire Writer
---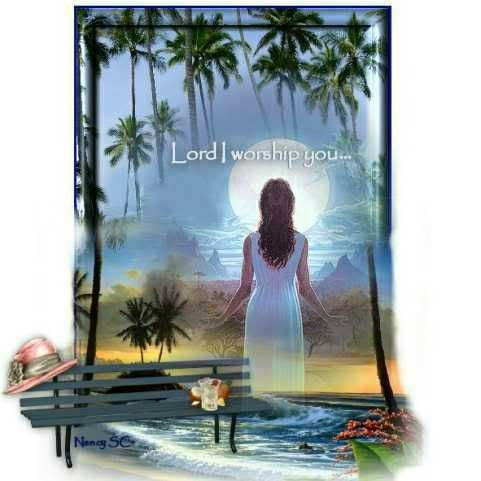 We were created to worship God from the very beginning. Did you know that worship is not just our praise but also our obedience? When Adam and Eve chose to disobey God they chose not to worship Him. To worship God means to obey, honor, reverence, respect, praise, and give Him all the glory. The first commandment God gave Moses was to worship Him and Him alone. God demands worship because He and He alone is worthy of it. He requests that we acknowledge His greatness, His power and His glory. Revelation 4:11 tells us, "You are worthy, O Lord, to receive glory and honor and power; For You created all things, And by Your will they exist and were created." We were created for this very purpose; to worship.
Isaiah 43:7 says, "Everyone who is called by My name, whom I have created for My glory; I have formed him, yes, I have made him."
Jesus told us to love the Lord with all of our heart, soul and mind (Matthew 22:32). This means our heart, soul and mind are to worship God. Romans 12:1 tell us to present our bodies a living sacrifice, holy, acceptable unto God, which is our reasonable service. This means we worship God with our bodies. Our hands and feet were created for worship. Then Hebrews 13:15 tells us to offer the sacrifice of praise to God continually, that is, the fruit of our lips giving thanks to his name. Our lips also were created for worship. We are to worship God with our whole being. We were created to be instruments of worship.
Did you know that worship is circular? We love God and God loves us. We bless Him and He blesses us. We sing to Him and He sings songs over us. We dance; He dances. Worship is like the tide coming and going. In Zephaniah 3:17 we discover,"The Lord your God in your midst, The Mighty One, will save; He will rejoice over you with gladness, He will quiet you with His Love, He will rejoice over you with singing."
Because we were created to worship to God nothing else we do in life will fill that void. Some worship self or money, some idols, others false gods. Only when we worship God can we find true happiness and fulfillment. Through worship God is glorified, Christians are purified, the church is edified and the lost are evangelized.
© Patricia Bankhead
---
PLEASE ENCOURAGE AUTHOR BELOW
LEAVE COMMENT ON ARTICLE
Reader Count & Comments
Date
You gotta lose your ego and worship the Lord!
Excellent commentary on how worship is so essential to our Christian life. Well done.
A good reminder of who we are and WHO HE is. He alone is worthy of all our praise - not just for what He's done, but for WHO HE is. Thanks for sharing this perspective
Hi -

I enjoyed this piece; it surely engages. Especially, I love, "Did you know that worship is circular?"

Ref: This sentence: Because we were created to worship to God nothing else we do in life will fill that void. You may consider removing the second "to" in the sentence.)

Thank you for this precious engaging piece.
Amen, this is a wonderful article. love it!
Amen, this is a wonderful article. love it!
Thank you for this article. It was what I needed just now. Nicely written and so true.
I liked your article. So many people miss that our reason for being is to worship God. From you writing it is clear that you know Him not just about Him.
Amen!! Very well written.
I was searching for articles on worship and I found this one! Glad I did. Made me think of you. How are you doing? Miss writing with you! Update me! Danette
YES & AMEN! INSPIRATIONAL WRITING, THANK YOU FOR SHARING! GOD BLESS YOU! LOVE & HOLY GHOST HUGS BLESSED THELMA
---
Read more articles by
Patricia Bankhead
or search for other articles by topic below.
---
Search for articles on: (e.g. creation; holiness etc.)
Read more by clicking on a link:
Free Reprints
Main Site Articles
Most Read Articles

Highly Acclaimed Challenge Articles
.
New Release Christian Books for Free for a Simple Review
.
NEW - Surprise Me With an Article - Click here for a random URL

God is Not Against You - He Came on an All Out Rescue Mission to Save You
...in Christ God was reconciling the world to himself, not counting their trespasses against them... 2 Cor 5:19
Therefore, my friends, I want you to know that through Jesus the forgiveness of sins is proclaimed to you. Acts 13:38
LEARN & TRUST JESUS HERE
The opinions expressed by authors do not necessarily reflect the opinion of FaithWriters.com.
FaithWriters offers Christian reading material for Christian readers. We offer Christian articles, Christian fiction, Christian non-fiction, Christian Bible studies, Christian poems, Christian articles for sale, free use Christian articles, Christian living articles, New Covenant Christian Bible Studies, Christian magazine articles and new Christian articles. We write for Jesus about God, the Bible, salvation, prayer and the word of God.