Poetry
ENCOURAGE AUTHOR BY COMMENTING
Leave Comment
Message Writer
Hire Writer
Report Article
REVEILLE
by
Jody Goode
03/15/06
Free to Share
Author requests article critique
Message Writer
Hire Writer
---
The time is now. The King is calling the troops into action. With armor on are we ready to step forth and fight for Him - to bring His people Home?
REVEILLE
(def) 1. A morning signal by drum or bugle, notifying soldiers or sailors to rise.
2. The hour at which this signal is sounded.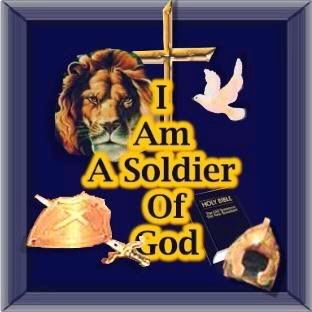 Roused from sleep
the bugle sounds
the light of dawn
the new day's crown
Called to arms
my time has come
to serve my King
to face the foe
protect from harm
those near and far
Trained well by life
I see the goal
"No greater love hath one"
lay down his life in sacrifice
if but to save one soul
There is but One Who's gone ahead
to show me how it's done
with His selfless sacrifice
the victory is won
With lips to bugle my name He calls
to follow in His steps
Fear not my friend!
You're not alone ~ you will not fall
when faced against the thrall
Draw your strength from deep within
for there you find Me Home
With wings like eagles you'll soar above
the enemy below
I'm Living proof of covenants filled
now I promise this ,
If you do this thing for Me
there's NOTHING I'll withhold
As My Father once foretold, now I tell you, too
What's Mine is yours
forevermore
just bring My people Home.
3/31/02
Easter Sunday
XXXO
---
PLEASE ENCOURAGE AUTHOR BELOW
LEAVE COMMENT ON ARTICLE
Reader Count & Comments
Date
Beautifully annointed work. I love the flow and the power of this poem. Thank you. God bless. In Christ, Christian
---
Read more articles by
Jody Goode
or search for other articles by topic below.
---
Search for articles on: (e.g. creation; holiness etc.)
Read more by clicking on a link:
Free Reprints
Main Site Articles
Most Read Articles

Highly Acclaimed Challenge Articles
.
New Release Christian Books for Free for a Simple Review
.
NEW - Surprise Me With an Article - Click here for a random URL

God is Not Against You - He Came on an All Out Rescue Mission to Save You
...in Christ God was reconciling the world to himself, not counting their trespasses against them... 2 Cor 5:19
Therefore, my friends, I want you to know that through Jesus the forgiveness of sins is proclaimed to you. Acts 13:38
LEARN & TRUST JESUS HERE
The opinions expressed by authors do not necessarily reflect the opinion of FaithWriters.com.
FaithWriters offers Christian reading material for Christian readers. We offer Christian articles, Christian fiction, Christian non-fiction, Christian Bible studies, Christian poems, Christian articles for sale, free use Christian articles, Christian living articles, New Covenant Christian Bible Studies, Christian magazine articles and new Christian articles. We write for Jesus about God, the Bible, salvation, prayer and the word of God.