Christian Living
ENCOURAGE AUTHOR BY COMMENTING
LEAVE COMMENT ON ARTICLE As A Member OR Visitor

Message Writer
Hire Writer
Report Article
Everyday Success
by
Sheriena McEvers
09/26/18
Free to Share
Author requests article critique
Message Writer
Hire Writer
---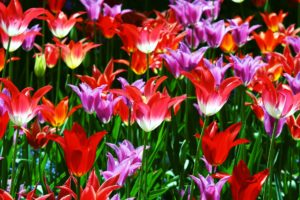 Triumph Tulips
Jesus promised His followers an abundant life with success every day. Does that sound like a dream, unrealistic? Do you say, "But you don't know my life? You don't know how I feel, what I deal with day in and day out." Maybe you have a really boring job, like a road crew flagger. Is your life one of a caregiver to a disabled relative? Could homeschooling a few children be your day in and day out life? Maybe you have a job that causes you to dread Monday mornings.
I will be the first to admit that I do not know what you are going through. However, I know God. I know what He has done for me. I know His transforming power. I know His love. I know we can believe Him.
Instead of being overwhelmed with life, I find His power in me makes me more than a conqueror. Not just conquering, but more than that. More. Romans 8:37 Yet, in all these things we are more than conquerors through Him who loved us. Above, not under the circumstances. It is real.
Key to everyday success
What is the key? Taking God at His word. Believing Him. Following Him. Denying any ability we think we might have. Turning from ourselves and our resources to Him and His resources. As believers all He has is ours. It is true. Philippians 4:19 But, my God shall supply all your needs according to His riches in glory in Christ Jesus. Did you notice that three-letter word, all?
I have His word to back me up. It is scriptural. It is not a fantasy. Therefore, I can believe and state with confidence that He always leads us in triumph. 2 Corinthians 2:14 Now thanks be to God who always leads us in triumph in Christ.
Adventure of everyday success
Are you ready for success? Every day? Step out in faith, a faith that is based on scripture, the word of God. Turn your focus away from your limited resources to Jesus Christ and His resources. Whatever your day or week or year has for you, God wants to infuse it with His presence and His peace.
Realize the insufficiency of your self-sufficiency. Turn to God and draw from His unlimited abilities. We don't have to expend any effort except to yield to God. Step aside to let Him control. Always looking away from our abilities and our resources to Him and all His resources. Your stress will disappear when you give Him the responsibility for your life.
There is no life that cannot be transformed into one marked by His presence knowing His grace is sufficient for you.
Words to light your path
2 Corinthians 2:14 Now thanks be to God who always leads us in triumph in Christ.
2 Corinthians 4:7 But we have this treasure in earthen vessels, that the excellence of the power may be of God and not of us.
Philippians 4:7 And the peace of God, which surpasses all understanding, will guard your hearts and minds through Christ Jesus.
Kind Heavenly Father, there is nothing too hard for You, Lord. Nothing. There is no problem out of reach of Your presence. Not even the monotonous boring everyday days. Whether it be one boring day a week or a whole year. Even the days when life happens, and we feel like we have been kicked in the stomach. There is no day that cannot be touched by Your life. Igniting a holiness. Guarded by Your peace. There is no day too boring or difficult that cannot be infused with Your presence making it special. Every day is an adventure when we deny ourselves, take up our cross, and follow You. Yielding to Your nudgings. Listening to Your guiding voice.
All scripture references are from the New King James Version of the Holy Bible.
---
PLEASE ENCOURAGE AUTHOR BELOW
LEAVE COMMENT ON ARTICLE
AS A MEMBER
OR
VISITOR
Reader Count & Comments
Date
---
Read more articles by
Sheriena McEvers
or search for other articles by topic below.
---
Search for articles on: (e.g. creation; holiness etc.)
Read more by clicking on a link:
Free Reprints
Main Site Articles
Most Read Articles

Highly Acclaimed Challenge Articles
.
New Release Christian Books for Free for a Simple Review
.
NEW - Surprise Me With an Article - Click here for a random URL

God is Not Against You - He Came on an All Out Rescue Mission to Save You
...in Christ God was reconciling the world to himself, not counting their trespasses against them... 2 Cor 5:19
Therefore, my friends, I want you to know that through Jesus the forgiveness of sins is proclaimed to you. Acts 13:38
LEARN & TRUST JESUS HERE
The opinions expressed by authors do not necessarily reflect the opinion of FaithWriters.com.
FaithWriters offers Christian reading material for Christian readers. We offer Christian articles, Christian fiction, Christian non-fiction, Christian Bible studies, Christian poems, Christian articles for sale, free use Christian articles, Christian living articles, New Covenant Christian Bible Studies, Christian magazine articles and new Christian articles. We write for Jesus about God, the Bible, salvation, prayer and the word of God.