Poetry
PLEASE ENCOURAGE
AUTHOR BY COMMENTING


Leave Comment
Message Writer
Hire Writer
Report Article
WOW, WHAT A DREAM, WHAT A VISION
Message Writer
Hire Writer
---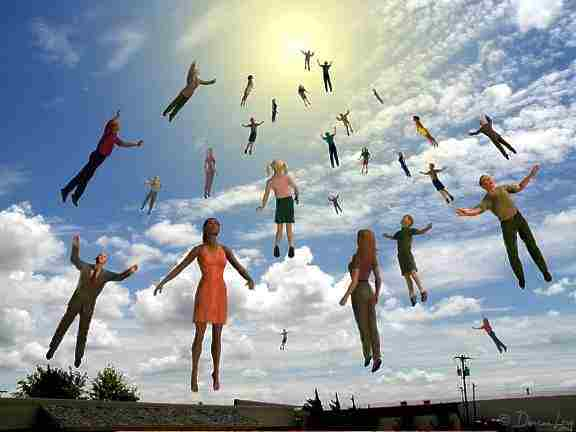 "And the Lord answered me: "Write the vision; make it plain on tablets, so he may run who reads it."(Habakkuk(2:2)
Wow, was it a dream, or was it a vision? It was so pronounced, that I just had to get up and jot it down on my iPad. I was flying through space at what seemed like a blink of an eye. I was moving so fast, that I couldn't even slow down or stop to greet the many family members and friends that I passed in the sky.
Not only did I recognize some of the other people who were traveling at the same speed of light, I even saw some characters of which I attended their funerals. These individuals just smiled and waved. However, one man did thank me for the nice thoughts I gave at his memorial service. He just seemed to stand out, as he was wearing his same WW II uniform which he wore at the funeral.
One man who was dressed in a pious religious robe was still holding his big Bible. Guess what? He was reading from the fifteenth chapter of First Corinthians. That alone was so unbelievable, I just had to stop and ask him what was going on. He just smiled and said that he was preaching on this particular text, but was called up before he had a chance to finish his sermon.
I saw so many babies and young folks that I couldn't begin to count. As they passed me by, one baby was praying for her mother's mistake.
What surprised me the most, I think, was all the different nationalities flying by. They were all singing the same hymn, "Amazing Grace," in a dialect I recognized. In fact, I sang along with them, as I flew by.
As I finished writing my notes, the wife called out from the bedroom. "I guess you got another thought," she yelled, which I confirmed, and then snuck back into bed.
Well, this was really not quite a dream, but maybe a vision. However, for some unknown reason, the entire scenario played out in my mind, as I lay awake in bed.
Is this just a preview of things to come? Maybe so and maybe not. But if God's Rapture is anything like this memory, I can't wait for it to take place!
You see, it will happen in a moment, in the blink of an eye, when the last trumpet is blown. For when the trumpet sounds, those who have died will be raised to live forever. And we who are living will also be transformed. (I Cor 15:51-55) ( 1 Thess 4:13-18)

For the born again believer, this is an exciting time. For you see, all God's prophecy has been fulfilled up until the Rapture, which is the taking away of His church. God's word tells us that no one, except the Father, knows the hour Christ will come to take the Church home.(Matthew 24:36) (Mark 13:32) So it surely pays to be ready for that departure into the Heaven's. Please enjoy this summary poem.
In The Blink Of An Eye
By the Heavenly Trumpets cry,
Christ will split the Eastern sky.
In The Blink Of An Eye
To gather believers who reply,
While to others a sad good bye.
In The Blink Of An Eye
Our waiting loved ones to see,
As our souls are set free.
In The Blink Of An Eye
Our possessions remain behind,
The evil spirits for to find
In The Blink Of An Eye
Those who doubted from afar,
Christ forever will He bar
In The Blink Of An Eye
Ask forgiveness for your sin,
And your soul forever mend.
In The Blink Of An Eye
God's grace stands ready for all,
Who by faith will freely call.
In The Blink Of An Eye
Looking forward to Heavens affair,
And the grand meeting in the air.
In The Blink Of An Eye.
PLEASE VISIT MY WEB PAGE http://ccrobey.wixsite.com/themessage
PLEASE ENCOURAGE AUTHOR
,
LEAVE COMMENT ON ARTICLE
Read more articles by
Charles (Chuck) Robey
or search for other articles by topic below.
---
Search for articles on: (e.g. creation; holiness etc.)
Read more by clicking on a link:
Free Reprints
Main Site Articles
Most Read Articles

Highly Acclaimed Challenge Articles
.
New Release Christian Books for Free for a Simple Review
.
NEW - Surprise Me With an Article - Click here for a random URL

God is Not Against You - He Came on an All Out Rescue Mission to Save You
...in Christ God was reconciling the world to himself, not counting their trespasses against them... 2 Cor 5:19
Therefore, my friends, I want you to know that through Jesus the forgiveness of sins is proclaimed to you. Acts 13:38
LEARN & TRUST JESUS HERE
The opinions expressed by authors do not necessarily reflect the opinion of FaithWriters.com.