Poetry
ENCOURAGE AUTHOR BY COMMENTING
LEAVE COMMENT ON ARTICLE As A Member OR Visitor

Message Writer
Hire Writer
Report Article
Standing In The Circle
by
Julie Pisacane
03/23/13
Not For Sale
Author requests article critique
Message Writer
Hire Writer
---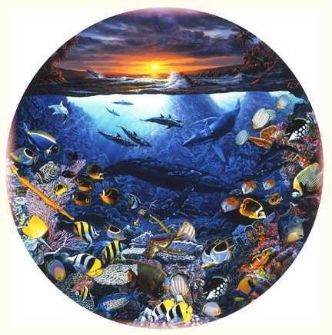 Within the circle of the earth
lies the place of my birth
and though my first breath
was taken here
Someone knew me
before I was born
Our God of Love
And He's always near.


I ponder the circle...a sacred shape
With no beginning and no end
like the wedding ring that
binds a relationship
where two are one
with a love that
transcends.


The circle of life
brings us days
with blessings
and at times-strife.
Sorrowful days...
Teeming with tears
but tears of the
hard-working souls
are sown quietly
into God's ground
Where only good fruit
will emerge and abound.


Our labor is protected
and we stand forever
free in the circle with Jesus
safe in the circle of peace
Celebrating in the circle
of God's love,life
and liberty.



Based on:

Psalm 139:13For thou didst form
my inward parts: Thou didst
cover me in my mother's womb.

Psalm 126:5They that sow
in tears shall reap in joy.


Revelation 22:17And the Spirit and the bride say, Come.
And he that heareth, let him say, Come.
And he that is athirst, let him come:
he that will, let him take the water of life freely.





---
PLEASE ENCOURAGE AUTHOR BELOW LEAVE COMMENT ON ARTICLE AS A MEMBER OR VISITOR


Reader Count & Comments
Date
---
Read more articles by
Julie Pisacane
or search for other articles by topic below.
---
Search for articles on: (e.g. creation; holiness etc.)
Read more by clicking on a link:
Free Reprints
Main Site Articles
Most Read Articles

Highly Acclaimed Challenge Articles
.
New Release Christian Books for Free for a Simple Review
.
NEW - Surprise Me With an Article - Click here for a random URL

God is Not Against You - He Came on an All Out Rescue Mission to Save You
...in Christ God was reconciling the world to himself, not counting their trespasses against them... 2 Cor 5:19
Therefore, my friends, I want you to know that through Jesus the forgiveness of sins is proclaimed to you. Acts 13:38
LEARN & TRUST JESUS HERE
The opinions expressed by authors do not necessarily reflect the opinion of FaithWriters.com.
FaithWriters offers Christian reading material for Christian readers. We offer Christian articles, Christian fiction, Christian non-fiction, Christian Bible studies, Christian poems, Christian articles for sale, free use Christian articles, Christian living articles, New Covenant Christian Bible Studies, Christian magazine articles and new Christian articles. We write for Jesus about God, the Bible, salvation, prayer and the word of God.