Encouragement
PLEASE ENCOURAGE
AUTHOR BY COMMENTING


Leave Comment
Message Writer
Hire Writer
Report Article
Forever In The Arms Of Jesus
by
Thelma Smith
03/06/08
Free to Share
Author requests article critique
Message Writer
Hire Writer
---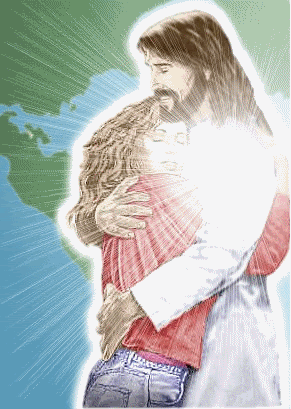 I love being in the arms of Jesus!
Jesus you are my everything!
I thank you Jesus for the agape love you have for me.
I love being in the arms of Jesus!
You give me unspeakable peace.
When the storms of life are raging about,
I know I'm safe in the arms of Jesus!
We do not need to be in heaven to be in arms of Jesus.
I can feel your presence in me.
Jesus you abide and live in my heart.
Sweet Jesus, I love your arms around me.
I am very grateful, for you're mighty and strong.
There is no fear in the arms of Jesus.
We have the spirit of power, love and sound mind.
We can do all things through Christ which
strengthens us.
Jesus my King, I love you infinity!
Jesus you are my strong tower.
Christ the hope of glory lives in us.
Nothing will separate me from the arms of Jesus.
I am free indeed, there is assurance and everlasting life.
I am forever in the arms of Jesus!
I DONT HAVE PRIVATE MESSENGER.
PLEASE ENCOURAGE AUTHOR
,
LEAVE COMMENT ON ARTICLE
Read more articles by
Thelma Smith
or search for other articles by topic below.
---
Search for articles on: (e.g. creation; holiness etc.)
Read more by clicking on a link:
Free Reprints
Main Site Articles
Most Read Articles

Highly Acclaimed Challenge Articles
.
New Release Christian Books for Free for a Simple Review
.
NEW - Surprise Me With an Article - Click here for a random URL

God is Not Against You - He Came on an All Out Rescue Mission to Save You
...in Christ God was reconciling the world to himself, not counting their trespasses against them... 2 Cor 5:19
Therefore, my friends, I want you to know that through Jesus the forgiveness of sins is proclaimed to you. Acts 13:38
LEARN & TRUST JESUS HERE
The opinions expressed by authors do not necessarily reflect the opinion of FaithWriters.com.
Member Comments
We do not need to be in heaven to be in arms of Jesus.
I can feel your presence in me....Amen Beloved! There is no place I'd rather be than forever in the arms of Jesus. There is safety, healing, deliverance and LOVE in the arms of Jesus. Thanks for sharing these sweet words to our Lord. My author tracker isn't working so keep me informed when you write some more sweetness to our Lord....Hugs