Apologetics
ENCOURAGE AUTHOR BY COMMENTING
LEAVE COMMENT ON ARTICLE As A Member OR Visitor

Message Writer
Hire Writer
Report Article
God of the Old Testament as Found In the Book of Numbers
by
Sheriena McEvers
03/19/19
Free to Share
Author requests article critique
Message Writer
Hire Writer
---
Let's see what the book of Numbers has to say about God and then decide if we need this book or if we should unhook ourselves from it. Here is a link to the book of Numbers for your convenience.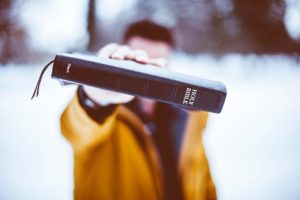 6:22-27 God wants to be gracious and give peace
7:89 God spoke to Moses from above the mercy seat- it was a seat of mercy
10:10 God wanted them to remember He was their Lord God
11:7-9 God provides heavenly food for their journey
14:9 Joshua warns the people not to rebel against God because they were afraid
14:42 God refuses to go with them
15:41 God reminds them it was he that brought them out of slavery
16:1-33 The earth opened and swallowed those who rebelled against Moses
20:12 Moses got angry and did not reverence God before the people; he can't enter the promised land
21:4-9 Foretells the manner in which Jesus would die
23:19 God is not a man that he should lie. He keeps his word
28:19 God expected perfect sacrifices
In the book of Numbers we learn that God demands; God provides. He is just and kind. What part of this book can we do without? We know that all sin and wander from God. We know that we complain, grumble, and can be deceived. He has provided for our repentance. It seems to me that although he is holy, he wants to love and provide for us. I want to keep this book and learn from it. Will you join me in reading Numbers this week? What part will God bring to life for you?
Words to light your path
Numbers 6:22-27 And the Lord spoke to Moses, saying: "Speak to Aaron and his sons, saying, 'This is the way you shall bless the children of Israel. Say to them:
"The Lord bless you and keep you;
The Lord make His face shine upon you, and be gracious to you;
The Lord lift up His countenance upon you, and give you peace."'
"So they shall put My name on the children of Israel, and I will bless them."
Only wise God, give us a heart that wants to learn all we can about you. Amen.
---
PLEASE ENCOURAGE AUTHOR BELOW
LEAVE COMMENT ON ARTICLE
AS A MEMBER
OR
VISITOR
Reader Count & Comments
Date
Thanks for the verses from the book of Numbers. God bless you!
---
Read more articles by
Sheriena McEvers
or search for other articles by topic below.
---
Search for articles on: (e.g. creation; holiness etc.)
Read more by clicking on a link:
Free Reprints
Main Site Articles
Most Read Articles

Highly Acclaimed Challenge Articles
.
New Release Christian Books for Free for a Simple Review
.
NEW - Surprise Me With an Article - Click here for a random URL

God is Not Against You - He Came on an All Out Rescue Mission to Save You
...in Christ God was reconciling the world to himself, not counting their trespasses against them... 2 Cor 5:19
Therefore, my friends, I want you to know that through Jesus the forgiveness of sins is proclaimed to you. Acts 13:38
LEARN & TRUST JESUS HERE
The opinions expressed by authors do not necessarily reflect the opinion of FaithWriters.com.
FaithWriters offers Christian reading material for Christian readers. We offer Christian articles, Christian fiction, Christian non-fiction, Christian Bible studies, Christian poems, Christian articles for sale, free use Christian articles, Christian living articles, New Covenant Christian Bible Studies, Christian magazine articles and new Christian articles. We write for Jesus about God, the Bible, salvation, prayer and the word of God.