Poetry
ENCOURAGE AUTHOR BY COMMENTING
Leave Comment
Message Writer
Hire Writer
Report Article
The Prodigal Son
Message Writer
Hire Writer
Tweet
---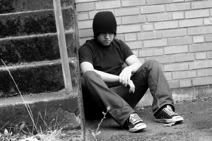 Tears fall and stain the page
Of her precious Holy book
She sits and weeps everyday
For the one that Satan took.
Caught within the shifty grasp
Like steel bound chains.
Her prayers are lifted up
Despite incessant pains.
She often tries to understand
How did things go wrong?
Did she not try to teach of Christ
So his faith would grow strong?
She lifts up her weary hands
For her wayward teen
Fervent intercessory prayer
For God to intervene.
Her constant prayer is
That God will bring to stay
The one caught in the trap
The one Satan led away.

---
PLEASE ENCOURAGE AUTHOR BELOW
LEAVE COMMENT ON ARTICLE
Reader Count & Comments
Date
Congratulations! This has been chosen to be highlighted on the Message Boards in the Cheering Section. You can see it by clicking here:
FaithWriters Jewel Chest
God's timing is amazing.. got this as my devotional via email this morn: Today's Prayer
Dear God, today I want to lift up the teenagers of this world. What a burden I have for them. So many are lost and undone. Their lives are a mess. There are so many negatives influences in their lives. Then there are some who are on the right path, serving you and trying to do what is right. I pray for each and every one, that the right person or people or circumstances would come to point them to you and show them your love, life and hope. I pray that you would give them boldness to serve you and courage to stand up for your Word and for what is right. I thank you that you have promised them hope and a future through the precious blood of Jesus. May they come to that knowledge and accept your gift of eternal life. In Jesus' name, amen.

Sowing In Tears
TGIF Today God Is First Volume 1, by Os Hillman
02-09-2012
"Those who sow in tears will reap with songs of joy." - Psalm 126:5
Psalm 126 describes an interesting process that goes against our natural tendencies when we are taken into a difficult period in our lives. Whenever we are hurled into a crisis that brings tears, our tendency is to retreat or recoil in fear and hurt. However, there is a better way that God tells us to handle such times of travail.
Those who sow in tears will reap with songs of joy. "He who goes out weeping, carrying seed to sow, will return with songs of joy, carrying sheaves with him" (Ps. 126:5-6). God is telling us that if we will do what is unnatural for us in these circumstances, He will make sure that what we sow in tears will return in joy. This is one of the most important lessons I have learned when faced with difficult circumstances. Rather than sit back and allow self-pity and discouragement to consume us, we should plant seed during this time. Reach out to a person who needs a friend. Invest in the life of another. See where you can be a blessing to someone. Give of yourself.
The psalmist acknowledges that we are doing this while we are in our pain. However, during this time we are to sow seed. That seed will return to us in another form. Here is what will happen when we do this. "He who goes out weeping, carrying seed to sow, will return with songs of joy, carrying sheaves with him." We will receive joy and fruit from the seed that we plant during this time. Sheaves represent the fruit of a harvest. We will actually get a harvest from this seed.
"You must not let the circumstances destroy you! Too many in the Kingdom are counting on you to come through this because of the calling on your life!" Those were the words spoken to me by a friend one time when I was in the midst of a very difficult business and personal circumstance that was threatening to destroy me emotionally. This person saw what God was doing and the fruit that God wanted to bring from these circumstances. Sometimes we need others around us to push us through the difficult times. If you find yourself in a difficult place today, see where you can sow some seed. Soon you will be reaping songs of joy.
Today God Is First (TGIF) devotional message, Copyright by Os Hillman, Marketplace Leaders.
Brought a tear to my eye! I really liked it.
Your message reminds me of hope we have that the prodigal will return. Very nice!
---
Read more articles by
Danette Kettwich
or search for other articles by topic below.
---
Search for articles on: (e.g. creation; holiness etc.)
Read more by clicking on a link:
Free Reprints
Main Site Articles
Most Read Articles

Highly Acclaimed Challenge Articles
.
New Release Christian Books for Free for a Simple Review
.
NEW - Surprise Me With an Article - Click here for a random URL

God is Not Against You - He Came on an All Out Rescue Mission to Save You
...in Christ God was reconciling the world to himself, not counting their trespasses against them... 2 Cor 5:19
Therefore, my friends, I want you to know that through Jesus the forgiveness of sins is proclaimed to you. Acts 13:38
LEARN & TRUST JESUS HERE
The opinions expressed by authors do not necessarily reflect the opinion of FaithWriters.com.
FaithWriters offers Christian reading material for Christian readers. We offer Christian articles, Christian fiction, Christian non-fiction, Christian Bible studies, Christian poems, Christian articles for sale, free use Christian articles, Christian living articles, New Covenant Christian Bible Studies, Christian magazine articles and new Christian articles. We write for Jesus about God, the Bible, salvation, prayer and the word of God.