Worship
ENCOURAGE AUTHOR BY COMMENTING
Leave Comment
Message Writer
Hire Writer
Report Article
Voice of Praise
by
Jody Goode
09/18/09
Free to Share
Author requests article critique
Message Writer
Hire Writer
---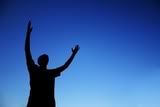 When my heart is given voice,
It sings a new song born from within
Wanting only to praise, worship and rejoice
For all that You, my Lord, have given
Praise the Lord all you His godly ones
For precious in His sight are you His saints
Let your heart shout for joy from the rising of the sun
     until the day is done
Eat your fill of His blessed manna to bring you strength
     and keep your heart from growing faint
Find the treasure of His blessed wisdom
When you invite Him in and with Him His Kingdom come
This Knowledge is truly too great to comprehend
Though His mystery tempered perfectly - as He is perfect -
     with utter trust His Spirit commends
As the King of kings is worshiped, honored, and adored
In return will His great love be upon you poured
Filling your heart and soul with great abandon
As He becomes your forever faithful Friend and Companion
So look to the Holy Mountain to see
That from there your help comes to set you free
Then, in your new-found freedom and abundant joy
Let your heart be given voice to raise
To the Lord your God a holy sacrifice of praise
---
PLEASE ENCOURAGE AUTHOR BELOW
LEAVE COMMENT ON ARTICLE
Reader Count & Comments
Date
---
Read more articles by
Jody Goode
or search for other articles by topic below.
---
Search for articles on: (e.g. creation; holiness etc.)
Read more by clicking on a link:
Free Reprints
Main Site Articles
Most Read Articles

Highly Acclaimed Challenge Articles
.
New Release Christian Books for Free for a Simple Review
.
NEW - Surprise Me With an Article - Click here for a random URL

God is Not Against You - He Came on an All Out Rescue Mission to Save You
...in Christ God was reconciling the world to himself, not counting their trespasses against them... 2 Cor 5:19
Therefore, my friends, I want you to know that through Jesus the forgiveness of sins is proclaimed to you. Acts 13:38
LEARN & TRUST JESUS HERE
The opinions expressed by authors do not necessarily reflect the opinion of FaithWriters.com.
FaithWriters offers Christian reading material for Christian readers. We offer Christian articles, Christian fiction, Christian non-fiction, Christian Bible studies, Christian poems, Christian articles for sale, free use Christian articles, Christian living articles, New Covenant Christian Bible Studies, Christian magazine articles and new Christian articles. We write for Jesus about God, the Bible, salvation, prayer and the word of God.