Faith
ENCOURAGE AUTHOR BY COMMENTING
Leave Comment
Message Writer
Hire Writer
Report Article
Mercy Triumphs Over Judgment
by
Jody Goode
06/15/09
Free to Share
Author requests article critique
Message Writer
Hire Writer
---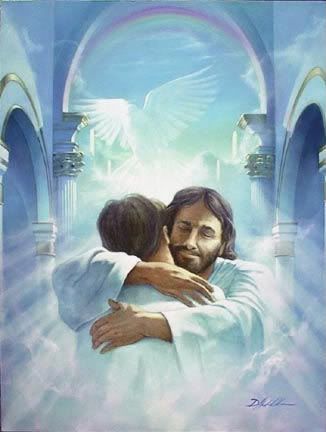 From the beginning when God saw all that He had made and that it was good could mean only one thing - at the moment of creation man could live satisfied and unashamed eternally in His Presence for nothing short of perfection ever could. God made man in His Image yet still a vessel needing to be filled by His Spirit to be made whole. Knowing all things, for He is the Alpha and the Omega - the beginning and the end - God knew that evil would enter first; consuming the heart of man and destroying the bond of fellowship and communion formed between Him and His creation. Perfect in all things, God is perfect Love and God is perfect Judge. By this very nature, while loving us completely and not wanting any to perish, He can do nothing but assume the seat of judgment and pour out His all-consuming wrath upon the earth and all the evil living within it for He cannot deny Himself. At the moment evil entered into the heart of man, we were condemned to die according to God's holy, righteous, and perfect justice.
So then, is it not His wrath from which we need to be saved?
And doesn't salvation belong to God?
You see, with God, all things are made possible. In His perfect Love and from the Mercy Seat He sent the Word made Flesh in His only begotten Son, Jesus Christ, to warn; to teach; to prophesy; to love; to die as the only pure sacrifice acceptable in His sight to atone for the consuming evil that stole our life making possible our adoption as sons and daughters and legitimate heirs to His Kingdom. By this, saving us from the fury of His great wrath which His Word in Christ clearly states will rain upon the earth absolutely in His perfect time.
So simple, yet to so many unbelievably foolish! To believe in our hearts and confess with our mouths that Jesus is just Who He claimed to be - sent from the Father as the Way, the Truth and Life Eternal - to be our salvation from His day of wrath. So that for us, we will only know the God of Love and Mercy holding out His arms waiting to embrace and welcome us Home.
With ears that hear and eyes that see, know it is time to awaken and be on the alert. When the evil of this world comes to overwhelm and steal your heart, which it surely will, you must daily devour the Word of God so you might be properly fed and clothed in the full armor of God finding yourself well-prepared to fight the good fight in the battle over your soul; that you may claim sweet victory our Lord Jesus has already secured in your name, writing it in the Lamb's Book of Life.
In so doing, on the great day of God's wrath, for you,
His mercy shall surely triumph over judgment.
All Scripture as referenced in the New American Standard Bible ...
Genesis 1:31
God saw all that He had made, and behold, it was very good.

Genesis 2:25
And the man and his wife were both naked and were not ashamed.

Genesis 1:27
God created man in His own image, in the image of God He created him; male and female He created them.

Revelation 22:13
"I am the Alpha and the Omega, the first and the last, the beginning and the end."

Genesis 3:13
..."The serpent deceived me, and I ate."

1 John 4:8
The one who does not love does not know God, for God is love.

Psalm 50:6
And the heavens declare His righteousness, For God Himself is judge.

2 Peter 3:9
The Lord is not slow about His promise, as some count slowness, but is patient toward you, not wishing for any to perish but for all to come to repentance.

2 Timothy 2:13
If we are faithless, He remains faithful, for He cannot deny Himself.

Genesis 2:17
but from the tree of the knowledge of good and evil you shall not eat, for in the day that you eat from it you will surely die."

Revelation 7:10
and they cry out with a loud voice, saying, " Salvation to our God who sits on the throne, and to the Lamb."

Luke 18:27
But He said, " The things that are impossible with people are possible with God."

John 1:14
And the Word became flesh, and dwelt among us, and we saw His glory, glory as of the only begotten from the Father, full of grace and truth.

Romans 5:8
But God demonstrates His own love toward us, in that while we were yet sinners, Christ died for us.

Ephesians 1:4-6 ; 13-14
just as He chose us in Him before the foundation of the world, that we would be holy and blameless before Him In love He predestined us to adoption as sons through Jesus Christ to Himself, according to the kind intention of His will, to the praise of the glory of His grace, which He freely bestowed on us in the Beloved... In Him, you also, after listening to the message of truth, the gospel of your salvation--having also believed, you were sealed in Him with the Holy Spirit of promise, who is given as a pledge of our inheritance, with a view to the redemption of God's own possession, to the praise of His glory.

Revelation 6:16-17
and they said to the mountains and to the rocks, "Fall on us and hide us from the presence of Him who sits on the throne, and from the wrath of the Lamb; for the great day of their wrath has come, and who is able to stand?"

1 Thessalonians 5:2
For you yourselves know full well that the day of the Lord will come just like a thief in the night.

I Corinthians 1:21
For the word of the cross is foolishness to those who are perishing, but to us who are being saved it is the power of God.

Romans 10:9-10
that if you confess with your mouth Jesus as Lord, and believe in your heart that God raised Him from the dead, you will be saved; for with the heart a person believes, resulting in righteousness, and with the mouth he confesses, resulting in salvation.

John 14:6
Jesus said to him, "I am the way, and the truth, and the life; no one comes to the Father but through Me.

Luke 15:20 ; 32
"So he got up and came to his father. But while he was still a long way off, his father saw him and felt compassion for him, and ran and embraced him and kissed him. 'But we had to celebrate and rejoice, for this brother of yours was dead and has begun to live, and was lost and has been found.'"

1 Peter 5:8
Be of sober spirit, be on the alert Your adversary, the devil, prowls around like a roaring lion, seeking someone to devour.

Joshua 1:8
" This book of the law shall not depart from your mouth, but you shall meditate on it day and night, so that you may be careful to do according to all that is written in it; for then you will make your way prosperous, and then you will have success.

Ephesians 6:10-17
Finally, be strong in the Lord and in the strength of His might. Put on the full armor of God, so that you will be able to stand firm against the schemes of the devil. For our struggle is not against flesh and blood, but against the rulers, against the powers, against the world forces of this darkness, against the spiritual forces of wickedness in the heavenly places. Therefore, take up the full armor of God, so that you will be able to resist in the evil day, and having done everything, to stand firm. Stand firm therefore, HAVING GIRDED YOUR LOINS WITH TRUTH, and HAVING PUT ON THE BREASTPLATE OF RIGHTEOUSNESS, and having shod YOUR FEET WITH THE PREPARATION OF THE GOSPEL OF PEACE; in addition to all, taking up the shield of faith with which you will be able to extinguish all the flaming arrows of the evil one. And take THE HELMET OF SALVATION, and the sword of the Spirit, which is the word of God.

1 John 5:4
For whatever is born of God overcomes the world; and this is the victory that has overcome the world--our faith.

Revelation 3:5
' He who overcomes will thus be clothed in white garments; and I will not erase his name from the book of life, and I will confess his name before My Father and before His angels.

James 2:13
For judgment will be merciless to one who has shown no mercy;
mercy triumphs over judgment.
---
PLEASE ENCOURAGE AUTHOR BELOW
LEAVE COMMENT ON ARTICLE
Reader Count & Comments
Date
"To believe in our hearts and confess with our mouths that Jesus is just Who He claimed to be - sent from the Father as the Way, the Truth and Life Eternal - to be our salvation from His day of wrath. So that for us, we will only know the God of Love and Mercy holding out His arms waiting to embrace and welcome us Home." Amen!

Are we not thankful that Mercy does triumph over Judgement...If it were not so, we should all be consumed...Thanks for this timely reminder. In times like this we sometimes forget that God is still in control, and that His mercy does triumph over Judgement. The rulers of this world cannot do anything without God's allowing it. He holds the world in His hands, regardless of what the big rulers might think...Thanks...Helen
Another gem. What a blessing to read . How I thank God for his everlasting mercies and glorious plan of salvation founded through the Lamb of God - slain before the foundation of the world.

37 All that the Father giveth me shall come to me; and him that cometh to me I will in no wise cast out. 38 For I came down from heaven, not to do mine own will, but the will of him that sent me. 39 And this is the Father's will which hath sent me, that of all which he hath given me I should lose nothing, but should raise it up again at the last day. 40 And this is the will of him that sent me, that every one which seeth the Son, and believeth on him, may have everlasting life: and I will raise him up at the last day. John 6

To God be all the glory . Thanks for sharing, Julie
---
Read more articles by
Jody Goode
or search for other articles by topic below.
---
Search for articles on: (e.g. creation; holiness etc.)
Read more by clicking on a link:
Free Reprints
Main Site Articles
Most Read Articles

Highly Acclaimed Challenge Articles
.
New Release Christian Books for Free for a Simple Review
.
NEW - Surprise Me With an Article - Click here for a random URL

God is Not Against You - He Came on an All Out Rescue Mission to Save You
...in Christ God was reconciling the world to himself, not counting their trespasses against them... 2 Cor 5:19
Therefore, my friends, I want you to know that through Jesus the forgiveness of sins is proclaimed to you. Acts 13:38
LEARN & TRUST JESUS HERE
The opinions expressed by authors do not necessarily reflect the opinion of FaithWriters.com.
FaithWriters offers Christian reading material for Christian readers. We offer Christian articles, Christian fiction, Christian non-fiction, Christian Bible studies, Christian poems, Christian articles for sale, free use Christian articles, Christian living articles, New Covenant Christian Bible Studies, Christian magazine articles and new Christian articles. We write for Jesus about God, the Bible, salvation, prayer and the word of God.