Moderators: Deb Porter, itsjoanne
Pencil 2 (50-99 Posts)

Posts: 61
Joined: Tue Oct 17, 2006 3:25 pm
Location: CA
Contact:
I read some of these wonderful stories! Congrats one and all!

Hugs,
Pamela
---
Awesome job everyone! Lots of familiar faces up there this week. I only managed to read and comment on a few in Masters, so I am sure that I missed a ton of great reading, but maybe I'll be able to catch up during my four day weekend. Everyone on this list should be proud of themselves. It's not easy to place in the challenge nowadays. So many great talents have joined the ranks.
I'll be back to check the top 40 this evening.
Josh
---
Pencil 2 (50-99 Posts)

Posts: 86
Joined: Sat May 30, 2009 11:49 am
Location: Kansas City, MO
Congratulations, everyone!!!!
And thank you to the judges and everyone else for my placing! I'm someowhat embarassed to admit that the story is true - except for name changes. I just managed to present it creatively - can't take credit for inspiration.
Last edited by
CreativeWords
on Fri Sep 04, 2009 12:41 am, edited 1 time in total.
Rachel Phelps
The pages are still blank, but there is a miraculous feeling of the words being there, written in invisible ink and clamoring to become visible. ~Vladimir Nabakov
Visit my blog
Par Excellence
---
Pencil 1 (1-49 Posts)

Posts: 13
Joined: Tue Jan 30, 2007 6:37 pm
Location: Southern California
Wow. Thanks, judges. I'm very honored to be sitting right under Jan's name.
Yes, everything in my story is true, except I did not threaten to stick a lollipop up my husband's you-know-what. I would have, had I thought of it at the time.
Thanks again, and congrats to everyone on those lists. I read many, many good entries this week, and I am humbled that the judges selected my entry.
Sheri
---
Pencil 1 (1-49 Posts)

Posts: 10
Joined: Wed Apr 15, 2009 8:52 pm
Location: Mineral Wells, Texas
Contact:
Congratulations to all. The variety of the writing styles and story-telling make delightful reading.

Virgil
Proverbs 16:3 Commit your works to the Lord, and your thoughts will be established. (NKJ)
---
Pencil 1 (1-49 Posts)

Posts: 32
Joined: Thu Jun 25, 2009 11:31 am
Location: Florida
Contact:
CONGRATS EVERYONE!!

A special thanks to the judges and all their hard work! <hugs>

And thank you guys for all the encouragment and advice, you are such a blessing! I thank God for you and for FaithWriters as a whole,... what a wonderful community!
---
Oh wow! I'm still reeling from the shock!
Thanks so much to the judges and to all you nice folks who took time to read and comment.
Great work everyone and a huge CONGRATULATIONS to all the winners!
Pat
Ps. 107:8 Oh that men would praise the LORD for his goodness, and for his wonderful works to the children of men!
---
Pencil 2 (50-99 Posts)

Posts: 50
Joined: Mon May 04, 2009 12:07 pm
Location: Canada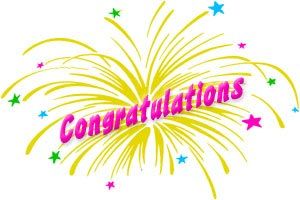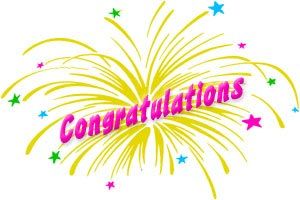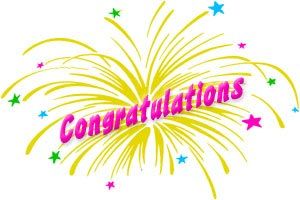 _________________
"The love of God is greater far, Than tongue or pen can ever tell ''
Fred­er­ick M. Leh­man
WRITING CHALLENGE ARTICLES
---
Pencil 1 (1-49 Posts)

Posts: 29
Joined: Tue Apr 28, 2009 2:18 pm
Location: San Diego, California
I am STILL SOARING ON WINGS!!!! Thanks, Judges SOO much! What an honor.
Thank you so much for all who commented on my entry!!!! I know it takes time out of very busy schedules, but the comments are to me like winner's ribbons too!!
Vern, If you hadn't put your comment on, I probably never would have known I got "Editor's Choice"!!! I saw "Highly Commended and was happy for that, but when you put your comment, I was puzzled enough to check, thinking you were just paying me a huge compliment. About three hours later I picked my jaw up off the floor. (Then rushed to make "Little Dough" read my entry.) Oh what a HAPPY DAY!! On top of that, five more days until the new little donut comes out of the oven. YAHOEEY!
THANKS TO ALLL!!!!!!!!!!
Be strong and very courageous Joshua 1:7
---
Oh I do hope I succeed in getting this huge thankyou on the message board. I've tried so many times this week but computer literacy is NOT my thing and goodness knows who or what has gobbled them up!

Just want to say a great big thankyou to the judges for my first place for 'Birth,' and to the wonderfull people who commented on my entry.

I've had a long break from the challenge owing to family committments and WOW, what an encouragement to carry on!

If I actually manage to send this message today then I may be daring enough to post in the Newbie Nook.

Congratulations to all the winners for 'Birth,' and if I ever got on here then it's time to get off for the next one! (Did that make sense!)

Luv
Dee
xx
---