My new ebook is released, we are still working on releasing it on Amazon Kindle, but is being distributed online to many retailers.
Currently it is free to download in pdf, epub, and many more formats at Smash Words:
https://www.smashwords.com/books/view/700889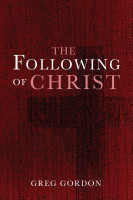 Description:
"Enter in by the narrow gate..."

Verses like this one can be confusing to the modern Christian mind. How does this apply to my daily experience? The answer to this question and others lies in a secret truth that the early believers closely guarded. It was the secret of Martyrdom.

In The Following of Christ, Greg Gordon gives us a glimpse of what following the Lord truly meant to the Early Church. Join hands with your nail-pierced Lord's hand and learn of that great cloud of witnesses (Hebrews 12:1) who have gone before us, some giving their very lives.

"This little book helps us to not only admire the ancient Christian martyrs, but to examine our lives and prepare for own martyrdom should God will it. As Greg reminds us, God grants special grace to those whom He calls to suffer by the sacrifice of their lives, enabling them to be fearless and even triumphant." - David Servant, Founder of Heavens Family
Would be glad to hear any feedback on this, am excited to see it encourage other Christian brothers and sisters in the Lord.