---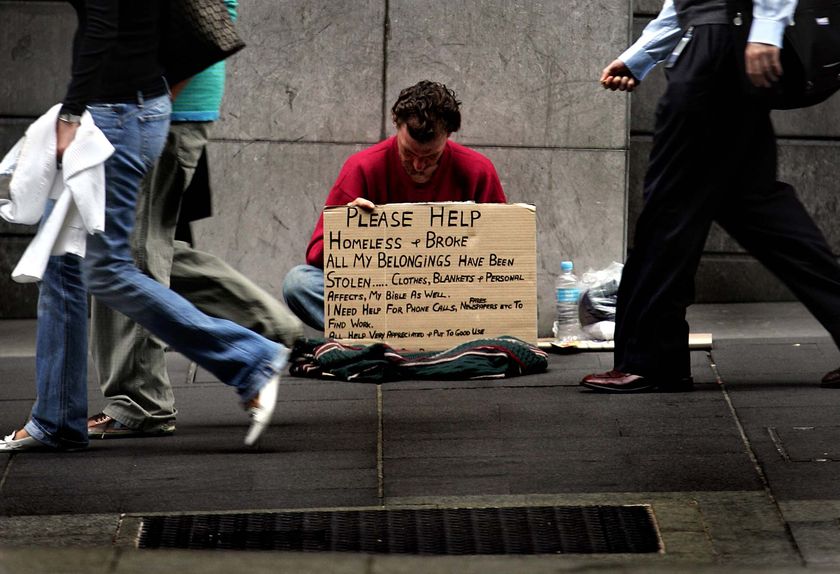 " And the crowds were questioning him, saying, "Then what shall we do?" And he would answer and say to them, "The man who has two tunics is to share with him who has none; and he who has food is to do likewise." And some tax collectors also came to be baptized, and they said to him, "Teacher, what shall we do?" And he said to them, Collect no more than what you have been ordered to." Some soldiers were questioning him, saying, "And what about us, what shall we do?" And he said to them, "Do not take money
from anyone by force, or accuse anyone falsely, and be content with your wages."(Luke 3:10-14)

If you have you ever watched soldiers doing close-order drill on a parade field, then you know how quickly they can do an " "about face". Simply put, "about face" is an abrupt change leading in an entirely different direction. This is a good picture of the worlds "Poverty" verses "Christianity". We must, and our society should demand it, that we do an "about face". That is change from the government welfare subsidies, which have never worked, to the church caring for the poor.

You see, I am very much concerned with the fate of America's most unfortunate citizenry, the poor among us. I realize that from the beginning of time, it seems we have always been stuck with the poor, but Jesus never meant it to be a way of dismissing our need to help the poor. In (Matthew 25:35-40), just a few lines before (Matthew 26:11), Jesus said that we Christians are never to neglect the hungry amount us by forgetting them.(Deuteronomy 15:11)

William Booth, the founder of the Salvation Army once penned his famous expression, " Soup, Soap and Salvation". In other words, we must first feed the poor, get them cleaned up and then get them saved.

So, to whom is given the responsibility of the poor (Luke 12:48)? One only need go back to the early church, for this reply. Once saved (Acts 2:41), those early day Jewish Christians were devoted to the apostles teachings and having fellowship while celebrating the "Lords Supper" (Acts 2:42). And they were all in agreement with God's purpose for the church (Acts 2:44). As a result of their new found faith, they sold their property and possessions and shared the results with those in need (Acts 2:45). They also shared meals (Acts 2:46). If only we Christians would take time to check out the scripture (Acts 17:11), as did the early church, what a time of praise that would be (Acts 2:47). There would be no need for "corporate welfare".

Yes, it's the church, not the government, that should be caring for the poor (1 John 3:16-18). Sadly to say, however, the modern day church has developed a misguided "prosperity theology". Pastors, some not all, are feathering their own nest and jetting to their palaces to develop their next ill-advised "Name it and claim it" sermons (2 Timothy 3:1-5,13).

Not to mention the large cathedral church structures and the elaborate interior designs
. The loud rock bands and the coffee and donut cafes.

Don't get me wrong. I'm all for progress, of the right design. However, many progressive
modern day "church physiologies are wrong, if not centered in the scriptures (Lev 2:35). If the full gospel (1 Cor 15:1-4) was only preached today, and the scriptures were studed as God intended (2 Timothy 3:16), what a difference that would be. (Romans 12:10) The poor would surely be taken care of.

Why then does the government continue with all those anti-poverty plans ? Better still, just leave them alone, as they didn't work (Ephesians 4:29). They perpetuate poverty by making Americans dependent, thus taking away the "old fashion" work effort.

Americans had been lifting themselves out of poverty -- on their own -- but when government stepped in, we stopped that progress. We encouraged people to be dependent, while the poor stayed poor. (2 Cor 9:10-12)

A bit of secular history, not reliant on religious conviction !

America grew fastest when government was tiny. Government at all levels was only about 8 percent of gross domestic product in 1912. In the hundred years prior to that, we made the Louisiana Purchase and settled the West. Americans went from subsistence-level farms to the highest standard of living on the planet.

Spending shot up during the world wars, but in peacetime it grew very little. Even the big boom in domestic spending, during the New Deal, resulted in government spending per person that was only about half what it is today -- half -- even as government went on to build dams, the interstate highway system and spacecraft. Spending was still only about $3,000 per person in today's dollars.

Next, came the " Great Society". We would cure poverty! Government grew so much that now, at all levels, it spends millions and even and billions of dollars per person per year collectively. Is our society great now ?

Then we added social programs
, hired 90,000 new regulators, created a whole new Cabinet-level department (for homeland security), and bailed out banks and automakers. Whew! And now we are spending even more.

What was so bad about spending $2 trillion per year. That's a lot. Why do we need to spend more? America doesn't face greater challenges now than we did then. In many ways, we're richer now, and life is easier. A government that spends $2 trillion is plenty big. So, why not cut the size of the federal government nearly in half -- back to the "good old days". That's enough!

Don't get me wrong. I'm not against advancement, in the right Christian spirit. And I'm certainly not against government. For we live in the greatest and best country of the world. We just need to foster the mind of Christ (Philippians 2:5) and live in accordance with the "golden rule (Matthew 7:12) .
In conclusion !
Why do we fail to commend our thoughtful government officials, who's aim it is to reduce welfare, and the negative results that it causes on mankind's self esteem, by putting our people back to work (Hebrews 6:10) ?

Yes, we may always have the poor among us. However, the remedy is not welfare, or more welfare (Job 5:16). The answer is the hope of the gospel message, that in Christ there is healing for our deepest hurts (Romans 5:2-7). And here's where the church comes in to play, not the government (Psalm 3:2-6).

But what can the church do to really help (Psalm 147:11) ? We just need to return to that "old time religion" mind-set. Give a loving hand, not a free handout. Restore God's creatures to be ready to support themselves by being productive human beings, as God intended (Psalm 71:20). I can dream, can't I (1 Thess 4:18) ?

If you believe in this theology concept, please spread the word among your fellow parishioners. Amen! (James 2:3-6)


---
If you died today, are you absolutely certain that you would go to heaven? You can be! TRUST JESUS NOW
---
Read more articles by Charles (Chuck) Robey or search for articles on the same topic or others.

Read More - Free Reprints, Main Site Articles, Most Read Articles or highly acclaimed Challenge Articles. Read Great New Release Christian Books for FREE in our Free Reads for Reviews Program. Christian writers can JOIN US at FaithWriters for Free. Grow as a Writer and help spread the Gospel.



The opinions expressed by authors do not necessarily reflect the opinion of FaithWriters.com.

Hire a Christian Writer, Christian Writer Wanted, Christian Writer Needed, Christian Content Needed
Find a Christian Editor, Hire a Christian Editor, Christian Editor, Find a Christian Writer