---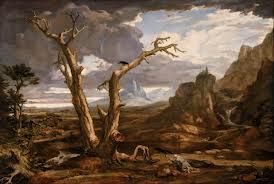 Elijah fed by ravens - Washington Allston
My God, is not in the wind
that cuts and shatters the rock.
Neither is He in the earthquake,
a brutal and destructive force
designed to compromise and destroy
a firm foundation.
When the fire comes
to scorch and wound,
He will not be found there either
My God is a still small voice
That tells me to stand ...
To stand still,
and see His wonderful salvation.
To stand fast in the faith,
and be strong.
I am not called to fight
but to stand,
and He has given me the necessary armour
to withstand, the evil one.
So, while the battle rages
and the earth beneath my feet gives way,
stand I will,
Not in my own strength,
for I am feeble, weak and frail
but in His power and might,
alone.
And on this lonely Mountain top,
I will see His Salvation
---
If you died today, are you absolutely certain that you would go to heaven? You can be! TRUST JESUS NOW
---
Read more articles by A B or search for articles on the same topic or others.

Read More - Free Reprints, Main Site Articles, Most Read Articles or highly acclaimed Challenge Articles. Read Great New Release Christian Books for FREE in our Free Reads for Reviews Program. Christian writers can JOIN US at FaithWriters for Free. Grow as a Writer and help spread the Gospel.



The opinions expressed by authors do not necessarily reflect the opinion of FaithWriters.com.

Hire a Christian Writer, Christian Writer Wanted, Christian Writer Needed, Christian Content Needed
Find a Christian Editor, Hire a Christian Editor, Christian Editor, Find a Christian Writer