---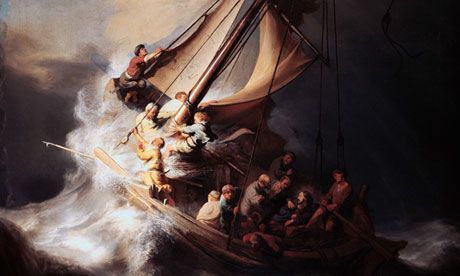 The storm on the sea of Galilee ~ Rembrant
Precious Saviour, take my hand
For the way I cannot see
Stranger in a foreign land
Thou my guide and comfort, be
Faithful Shepherd, guard my feet
Lest I stumble, go astray
Lead me on, to pastures sweet
Through death's valley, make a way
In the tempest and the storm
Billows seek to overwhelm
Dark, alarming, waves transform
With the Master, at the helm
Saviour, Shepherd, Master, friend
Thou art more than life to me
Hope of faith, at journey's end
When at last, Thy face, I'll see
~~~~~~~~~~~
When I wrote this poem, I felt that I was in the midst of a storm. Little did I know, it was but a ripple. Several weeks later as gigantic waves come crashing down, I read these wonderful comforting verses. May they encourage someone, as they have me.
God is good, all of the time.
The floods have lifted up, O LORD, the floods have lifted up their voice; the floods lift up their waves.
The LORD on high is mightier than the noise of many waters, yea, than the mighty waves of the sea.
Thy testimonies are very sure; holiness becometh thine house, O LORD, for ever.
Psalm 93:3-5
---
If you died today, are you absolutely certain that you would go to heaven? You can be! TRUST JESUS NOW
---
Read more articles by A B or search for articles on the same topic or others.

Read More - Free Reprints, Main Site Articles, Most Read Articles or highly acclaimed Challenge Articles. Read Great New Release Christian Books for FREE in our Free Reads for Reviews Program. Christian writers can JOIN US at FaithWriters for Free. Grow as a Writer and help spread the Gospel.



The opinions expressed by authors do not necessarily reflect the opinion of FaithWriters.com.

Hire a Christian Writer, Christian Writer Wanted, Christian Writer Needed, Christian Content Needed
Find a Christian Editor, Hire a Christian Editor, Christian Editor, Find a Christian Writer