Christian Living
PLEASE ENCOURAGE
AUTHOR BY COMMENTING


LEAVE COMMENT ON ARTICLE As A Member OR Anonymously

Message Writer
Hire Writer
Report Article
THE LORD'S PRAYER, A SYSNOPSIS
Message Writer
Hire Writer
---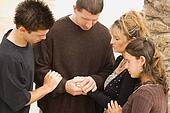 The Lord's Prayer is the best loved and most spoken prayer, ever to be penned. On any given Easter Sunday, it is thought that over 2 billion people worldwide recite this prayer. Not only is it widely read, but it's lyrics have been put to music worldwide.
The prayer was given, as a portion of the Sermon on the Mount, as Jesus was discussing how we should pray. The disciples wanted to know how God wanted them to pray ( Luke 11:1), so Jesus gave them a good example. Today, we call that prayer the Lord's Prayer, because the Lord Jesus prayed it.
The Lord's Prayer shows us how to pray but we don't have to recite its exact words. We can use our own words, remembering the different parts that Jesus wants us to include. You see, as in any other prayer, we should just simply talk to our Heavenly Father. Why I have even known many "old time Christian Saints" who would always prayer in the "Kings Language, that of the " King James" Bible. Nothing wrong with thinking in "Ole English" . I just feel more comfortable talking to my Heavenly Father, as I would my paternal earthly father.
One important trait of this model prayer is that we are not to pray to impress God or others, or to think that we might be able to manipulate God. (Matthew 6:5-7) We should simply come to "Our Father", as a child would to his father, honestly being real about our failures and need of God.
One last important though, before we get into the heart of the prayer. Remember, God already knows our needs and concerns before we knell to talk to him. ( Matthew 6:8)
------- This, then, is how we should pray: (Matthew 6:9-15)
OUR FATHER- The first two words of this prayer are the basis for the entire prayer. Those being, "our Father". Yes, God is every ones Father, who has a personal relationship with God through His Son "Jesus Christ". God is no respecter of persons. ( James 2:1-13) He is the Father of all creation. ( Acts 17:29). He is the Father of the nation Israel. ( Exodus 4:22). He is the father of the Lord Jesus Christ. ( Matthew 3:17) And He is the Father of all us believers. ( Galatians 3:26)
WHICH ART IN HEAVEN- Here we have God's dwelling place, Heaven. Determining the existence of Heaven, is outside of our human finite mind. The scripture tells us, however, that God resides in heaven - which seems to exist outside of time and space as we know it.
Someday, God will provide us with a new heavens and earth containing the new heavenly city called the New Jerusalem. ( Revelation 21:1-2) It's there that God will dwell among us. In (Isaiah14:13) we see a hint of Heavens location, as being up and above the stars. In (John 18:36) we see that Heaven is not of this world. And in (Acts 7:56) the Heavens opened up. However,
I'm not hung up on any particular location of Heaven. I just know wherever He is where I want to be. ( Philippians 3:20 ) So, just beam me up, Lord. ( 1 Thess 4:17)
HALLOWED BE THY NAME- Why should we pray that God's name be holy? Isn't it already? We say this "not because we wish for God that He be hallowed by our prayers, but because we seek from the Lord that His name be hallowed in us.
Sacred, holy, sanctified, blessed, consecrated and undefiled. Yes, He is all these distinguishing attributes and countless others. In ( Psalm 8:1-9) David marvels at God's majestic attributes.
----- God knows everything and His knowledge is complete. ( Isaiah 40:28) ( Job 37:16) ( Psalm 147:5) ( 1 John 3:20 ) ( Romans 11:33)
----- God is able to bring to pass everything that He chooses. He has no external limitations. ( Job 42:2) ( Genesis 18:14
----- God is present in all places at all times. ( Proverbs 15:3) ( Jeremiah 23:23-24) ( Psalms 139:7-12)
----- God is absolutely unchanging.( Psalm 90:2) ( Malachi 3:6)
While all the attributes of God are important and dependent on one another, the fact of God's Holiness seems to be the one He wishes us to put emphasis upon. ( Leviticus 20:7) ( Isaiah 6:3) ( 1 Peter 1:15) ( 2 Timothy1:9 ) ( Psalm 22:3) ( Revelation 15:4)
Each of these old patriarchs (Moses, Job, Isaiah, Mount of Transfiguration, etc.) had a personal encounter with which God's holiness is mentioned. ( Psalm 99:9 ) (Habakkuk 1:13
God's holiness is manifested in His righteousness. Because He is holy, He is righteous. This attribute of righteousness is the way His holiness is expressed when dealing with men.( Psalm 116:5) ( Ezra 9:15) (Exodus 9:23-27( ( Psalm 129:4) ( Psalm 145:17) (Jeremiah 12:1) ( 1 John 1:9)
God is sovereign. This is how He rules His people and to do what He knows is best for us. Though He is in complete control, He has also given us a free will to obey or reject His leading. ( John 3:16) ( John 1:12)
If there is one attribute that people love to embrace, it is the fact that God is love. This word encapsulates for us His mercy, grace and loving-kindness.( 1 John 4:9-12) ( John 13:34-35)
You see, God is not like the deities of other religions who are thought of as angry and hateful. And oh yes they are all still dead in the grave. God is loving towards His creatures, ( Romans 5:8) and is alive and well, forever more.
And God's mercy has been defined as God not giving us what we deserve, yet in His mercy He has chosen to offer us a way for salvation (Ephesians 2:4) ( Romans 5:8) ( Deuteronomy 4:31) ( Psalm 103:8)
THY KINGDOM COME- Given the cultural turmoil of today's world, we Christians tend to pray for this moment, as much as any other request. ( Revelation 22:20 ) ( 2 Peter 3:12-14)
However, sadly to say, many in today's world do not believe or have become discouraged with this promise of His return. ( 2 Peter 3:3-4) We must prayer for these dishearten
THY WILL BE DONE IN EARTH, AS IT IS IN HEAVEN- What a wonderful world it would be if everything down here was as it is in Heaven. ( Isaiah 25:8-12) ( Revelation 21:2-5) ( Revelation 22:1-6)
GIVE US THIS DAY OUR DAILY BREAD- As God's children, what can be more childlike than asking God to furnish our daily bread ( Exodus 16:4) ,a phrase that describes all our physical and human daily needs. With the confidence of children we say: " Father, please give us this day what we need", as bread is a symbol of all necessary food.
Since God takes care of the birds (Matthew 6:25-34) , will He not care for us, His Children. ( Psalm 37:25)
AND FORGIVE US OUR TRESPASSES, AS WE FORGIVE THEM THAT TRESSPASS AGAINST US- This request has a two-fold purpose. Here, not only do we ask our Lord's forgiveness for our own sins ( 1 John 1:9 ), but we also ask Him to forgive the others, who have sinned against us. ( Colossians 3:13) ( Romans 4:7
Asking for the forgiveness of others often times is rather difficult. Just imagine, asking God to forgive our family, friends and co-workers for sinning against us. But it must be done ( 2 Cor 2:7) ( Ephesians 4:32), as we only get forgiveness when we give forgiveness.
If we are not willing to forgive, then how can we be forgiven. We surely need God's help to do this. but it must be done or we ourselves cannot receive God's mercy, ( Matthew 6:14)
These trespasses ( debts ) are actually obligations incurred; i.e., sins of omission and commission. The forgiveness simply means a cancellation of such debt or obligations. ( Psalm 103:12)
AND LEAD US NOT INTO TEMPATATION BUT DELIVER US FROM EVIL- The Christian life can sometimes be a battle. Especially, in this turbulent time, in which we are living.
A time when Satan himself seems to have his way with all mankind. ( Ephesians 6:11-12) ( Acts 5:3) ( Revelation 12:10 )( 1 Thess 2:18) ( 1 Cor 7:5) ( Matthew 13:38-39 ) ( Revelation 2:10-13) ( 2 Cor 4:4) ( Luke 8:12)
With trials, sickness, failures, false values and promises, and the like, crushing in from every side. So we must prayerfully ask God to keep us from failing when we are tested ( 1 Cor 10:13), to help us to know the right thing to do, to deliver us from the evil which awaits us in life. ( Jude 8-9) ( 1 Peter 5:8) ( James 4:7)
FOR THINE IS THE KINGDOM, THE POWER, AND THE GLORY, FOR EVER AND EVER- The Lord's prayer is a summary of the teaching of Jesus. It offers the grace of Jesus ( 2 Cor 9:8), His reverence and childlike self-assurance in the Father ( 2 Thess 2:16), and His confidence of divinely facing life no matter what comes. ( Romans 8:38-39 )
It is a model for our prayers. It begins with adoration of God ( Matthew 6:9 ), acknowledges subjection to His will ( Matthew 6:10 ), ask petitions of Him ( Matthew 6:11-13), and ends with an ascription of praise ( Matthew 6:13).
Remember, When you pray " The Lord's Prayer", His spirit will become your spirit. ( 2 Cor 4:13) In (Romans 8:16) we see clearly that we do have a human spirit: "The Spirit Itself beareth witness with our spirit, that we are the children of God." Thus, when we are the "children of God," then God's Spirit will always bear witness with our spirit.
I realize this "Lord's Prayer" is directed to God's people. However, you can be included, as well. Are you a child of God, beloved? Do you have a personal relationship with God, through His Son Christ Jesus ? ( Philippians 1:21) It's simply just a matter of faith, ( Hebrews 11:1,6) on your part, to accept God's free grace to change your life. ( Ephesians 2:4-9)
You see, you can never earn your way to God. You can never be good enough for God. And you cannot depend on your family or friends to get you to God. ( Ephesians 2:8-9)
If you have taken this all important eternal step, please:
---Start reading the Bible, starting with the book of John.( Psalm 119:11) ( 2 Timothy 3:16)
---Start talking ( praying) to you Heavenly Father. ( Philippians 4:6-7)
---Start attending a good Bible believing, full gospel ( 1 Cor 15:1-4) church.( Hebrews 10:25)
---And don't be ashamed ( Romans 1:16) to tell others what God has done for you,. ( Isaiah 6:8)
And all God's Children said "AMEN" ! ( 2 Peter 3:18)
PLEASE ENCOURAGE AUTHOR
, LEAVE COMMENT ON ARTICLE
AS A MEMBER
OR
ANONYMOUSLY
Read more articles by
Charles (Chuck) Robey
or search for other articles by topic below.
---
Search for articles on: (e.g. creation; holiness etc.)
Read more by clicking on a link:
Free Reprints
Main Site Articles
Most Read Articles

Highly Acclaimed Challenge Articles
.
New Release Christian Books for Free for a Simple Review
.
NEW - Surprise Me With an Article - Click here for a random URL

God is Not Against You - He Came on an All Out Rescue Mission to Save You
...in Christ God was reconciling the world to himself, not counting their trespasses against them... 2 Cor 5:19
Therefore, my friends, I want you to know that through Jesus the forgiveness of sins is proclaimed to you. Acts 13:38
LEARN & TRUST JESUS HERE
The opinions expressed by authors do not necessarily reflect the opinion of FaithWriters.com.