Jan's Master Class--CLIMAX
Posted: Mon Apr 21, 2008 6:22 pm
CLIMAX—That point in a plot that creates the greatest intensity, suspense, or interest.
Poets (except balladeers) and non-fiction writers, sit back and relax. I'm focusing on fiction this week.
In order to talk about CLIMAX, I need to give you a passing understanding of a few other plot-related terms. Take a look at these two familiar stories, greatly simplified:
The Wizard of Oz
Exposition--Dorothy in Kansas, we meet the farmhands and Elmira Gulch
Rising Action—Dorothy's adventures on the yellow brick road
Climax—Dorothy melts the Wicked Witch of the West
Falling Action—back to the Emerald City, use the ruby slippers
Resolution—there's no place like home
Joseph and his brothers
Exposition—Joseph tells his brothers his dreams
Rising Action—Joseph sold, rise to power in Egypt, famine in Canaan
Climax—Joseph accuses Benjamin of theft
Falling Action—search of sacks, true identity revealed
Resolution—a family reunion
Here's a visual representation of the structure of a typical short story, for you visual learners: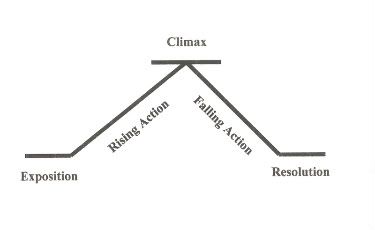 And here's what it more often looks like, with the climax much closer to the end of the story: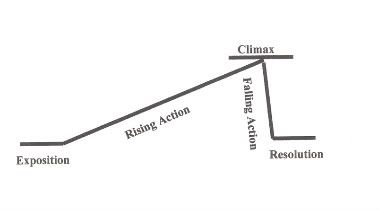 So what am I leading to? The rise and fall of these diagrams—
especially the tension or conflict leading up to the climax
—is what pulls a reader into a story.
The Writing challenge poses some difficulty here. In ultra-short fiction, you can't always develop an entire plot. But I'd strongly advise you to at least do this: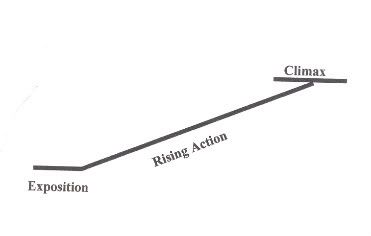 Take your readers right to that moment of "greatest intensity", and give them enough information to let them supply the ending.
A side note:
Don't
try to cram too much story into 750 words. I've seen lots of people do it (and I've done it myself). I'm getting slightly off-topic here, but hey, I'm the teacher. 750 words is
very small
. Write a
very small story
. If you have to choose between plot and character, chop off some plot and develop your characters.
Okay, off my soapbox, and back to CLIMAX. Here are some Challenge entries that did a fine job of building to a point of great suspense or interest. I'll leave it to you to read them and to pick out the climax.
Sheri Gordon's
Mrs. Mackeyhacky's Perfect Day
Linda Schultz's
Thirteen Steps to disaster
Ann Renae Hair's
Freckles' Fortune
Dee Yoder's
Mr. Know-It-All Takes the Lead
Angela M. Baker-Bridge's
Driving 101
HOMEWORK: Choose a commonly-known story (like the two that I used at the beginning of this lonnnnnnnnnnnng class) and tell what you think is the climax.
OR
Link to one of your entries that has a great climax.
As always, let's discuss!
NEXT WEEK: CONSONANCE