Once again, thank you to everyone who took the time to leave feedback on Blog Challenge entries. You are all such blessings, but now it's time to announce the bonus prize winner.
Our winner of the bonus Ratings Feedback Report prize for the Blog Challenge is the lady with the BIG name ...
Shann Hall-LochmannVanBennekom.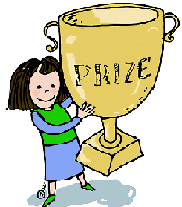 The bonus prize for this topic was sort of randomly selected, but not quite the "eeny, meeny, miney, moe" type of choosing I normally do. I did randomly select an entry, but there was Shann's comment right at the top. As always, it was kind, encouraging, and left a little bit of critique as well.
Out of interest, I decided to click on a few other random entries, and sure enough, there was Shann--if not always at the top, only a comment or two behind. That kind of faithfulness has to be rewarded.
To be in the running for this prize (and other little incentives in the future), make sure you leave critique/feedback on entries during the week and a half after the entries go public. One comment is randomly selected each topic to receive the prize. A sample of the Ratings Feedback Report can be found here:
http://www.finessewriting.com.au/rating ... ample.html
Again, thank you to all those who took the time to be a blessing. We'll be doing it all again with the Spam Challenge on Thursday.
Love, Deb