Moderators: Deb Porter, itsjoanne
Congratulations, Everyone!
---
Woo-hoo!!! Happy dance all of you!!
A
BIG
CONGRATULATIONS!
to each and every one of you! Wonderful works this week!
Ps. 107:8 Oh that men would praise the LORD for his goodness, and for his wonderful works to the children of men!
---
Pencil 2 (50-99 Posts)

Posts: 88
Joined: Thu Jul 24, 2008 1:10 pm
Location: Southeast Michigan
Contact: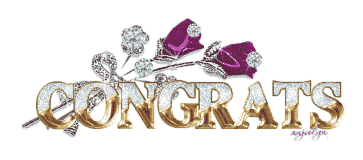 Karlene
Thanking God every day for you.,
Karls
Book & Film reviews, devotionals, etc...
Undaunted Devotion
Helping my fiction friends find their
Legacy
---
Pencil 1 (1-49 Posts)

Posts: 32
Joined: Thu Jun 25, 2009 11:31 am
Location: Florida
Contact:
CONGRATS!!
---
Pencil 3 (100-149 Posts)

Posts: 128
Joined: Wed Apr 08, 2009 9:24 pm
Contact:
Well done, Faithwriters!

Quality writing among the winners list and also among the "missed it by a whisker" list!

We could publish the entries each week and not be ashamed of our labor.

Special shout out to Lisa ... my encourager! Congrats, my dear!

love every one you, my writing buddies,

jim mcwhinnie
May God's gentle grace be with you.

Jim McWhinnie
---
---
Wow! Congratulations, Everyone! Can't wait to read the EC's.
Connie
My Profile
"Living with purpose is the only way to really live!" Pastor Rick Warren
"We are not trying to please men but God, who tests our hearts." 1 Thessalonians 2:4
---
Pencil 1 (1-49 Posts)

Posts: 49
Joined: Sat Feb 21, 2009 9:03 pm
Location: Southern Lower Michigan
Yay, Everyone--Congrats! (Go Jan, Go Lisa)
And thanks to the judges: I feel humbled and honored!
Kim Russell
---
Pencil 3 (100-149 Posts)

Posts: 100
Joined: Wed Aug 26, 2009 4:41 pm
Location: Texas
Contact:
Congratulations to the winners! I read so many wonderful entries this week!
---
Pencil 6 (300-499 Posts)

Posts: 327
Joined: Mon Sep 18, 2006 2:46 pm
Location: Georgia
Contact:
Lisa got her title wrong...she IS a contender!!!
Big woopwoop to you my friend and to my mentor Jan and, well, I'll leave the rest of the shout outs to Jo
and just say...
WELL DONE, EVERYONE!!!
(see, I am a poet!)
---
Wunderbar! Hey, it's almost Oktoberfest up here, so's the German ist rrrrrrolling off my tongue.

Great, great entries this week and I'm kinda shocked to see mine anywhere on this list of FABULOUS-O writers!

Di Dart
---
Yeah- I'm late - but it's been CRAZY at my house.
Doesn't mean I don't mean it! hehe
WOOWOO to LLLIISSAAA!! JJJAANNNNNN!! ANNNNNNNN!! DDDIIIIIIiiiiiiiI!!!! MMAARRRIII!!! BBBRRREENNNDDAAAAA! LLLIIINNDDAAA!! BBRRYYAAANNN!!! BBBBEETTHHHHHHHHH!!!! KKKIIIMMMMM!!!! RRRRRAACCCHHHHEEELLLLLLLL!!! SSSTTTIIINNNAA!!! AAARRRLLLEENNNEEE!!! PPPPAATTTTTTTTTYYYYY!! CCLLYYYDDDDDEE!!!!!
Super job, folks! Off to do highest ranked
---